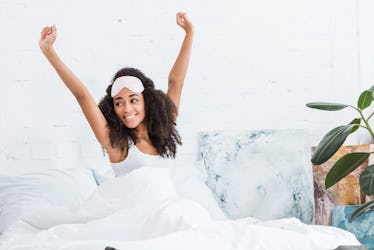 Doing These 8 Things With Your Extra Time In The Morning Will Make You Feel So Accomplished
Either you woke up before your alarm, or somehow miraculously got up without pressing the snooze button a million times. Now, you have a little extra time in the morning before you have to leave for class or work. It's such a great feeling to wake up early. The sun is out, the birds are chirping, and the day feels a little more in your hands. Seize this precious moment by preparing yourself to tackle the day. Though, if you're new to this whole early routine, you may be wondering what to do with extra time in the morning so you'll feel productive AF.
You could always just scroll through social media and catch up on your best friends' posts, but you'll quickly realize that you just wasted hours you could have been using a little more wisely. With your newfound early bird energy, do any of these eight things to help you prepare for the rest of your day.
Starting your day on the right note is a great way to keep that positive energy going throughout the rest of the day. You might even be able to mark off a few of those goals you've been procrastinating for weeks. Sorry, snooze button. You let me have my extra Zs, but it might be time to take a little break.