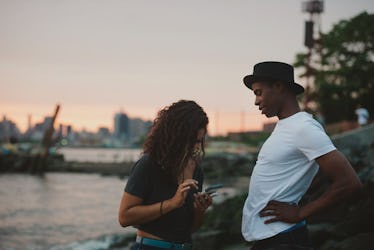 If You Think Your Partner's Micro-Cheating On You, Here's What You Should You Do 
Confession time: I have definitely micro-cheated. At the time, it didn't have a fancy name, but I knew that what I was doing wasn't totally above board. Maybe I hadn't crossed the line, but I was definitely stepping on it. In my heart, I knew I was being shady, and that if the roles were reversed, I would be hurt. And yet, I justified it because it wasn't technically cheating. But that's what makes micro-cheating so insidious: It thrives in the grey areas, so it's common not to know what to do if you think your partner's micro-cheating, or really even exactly what micro-cheating is.
As Australian psychologist and consultant Melanie Schilling explained to Daily Mail Australia, micro-cheating is a series of subtle behaviors that indicate a person who is already in a committed relationship is also focusing emotionally or physically on someone else — and, importantly, that they keep it secret from their partner. For example, as NYC relationship expert Susan Winter explained to Elite Daily, "Micro-cheating [can be] sexual flirtation via social media from someone who's already in a relationship," as can "in-person office flirtation that remains verbal, rather than physical."
While the definition may be a little murky, there is nothing "grey" about the emotional and psychological toll it can have on your relationship and your partner, as anyone who has been on the receiving end can attest to. That's because micro-cheating is the gaslighting of infidelity. It's easy for the micro-cheater to deny what they're doing, or even turn it around on their partner by calling them"paranoid." It's extremely frustrating.
"Though on different levels, micro-cheating can be just as destructive as full-on physical cheating," Winter warned, adding, "It indicates some level of partner dissatisfaction, discontent or boredom. This blatant level of disrespect will erode the self-esteem of one's partner." Sounds about right.
So, in that case, what should you do if you think your partner is micro-cheating? Well, here's what the experts say.