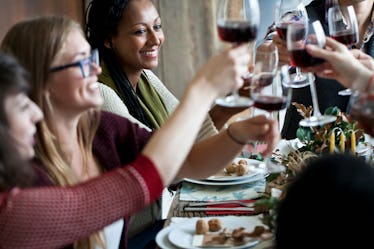 9 Genius Ideas For What To Bring To Friendsgiving If You Can Hardly Even Fry An Egg
Thanksgiving festivities are usually potluck in nature, but even if your hostess with the mostess says she's got it under control, contributions are always appreciated. That doesn't mean you have to be Martha Stewart to supply something delicious to your Friendsgiving feast, by the way. If your kitchen skills are limited to buttered toast and bowls of cereal, and you're at a loss as to what to bring to friendsgiving, don't freak out if you've volunteered to add a dish to the dinner table. The internet is here to help you go from zero to chef real quick.
Every year, our favorite TV shows and Hallmark holiday movies paint a picture of the quintessential Thanksgiving. Scenes of banquet-length tables crowded with golden brown turkey, burnt orange sweet potato soufflés emblazoned with miniature marshmallows, thick, round slices of cranberry sauce, and bowls on bowls of stuffing set high expectations for what our own feasts should look like. But, let's be real, Hollywood is a little extra around the holidays, and you don't need five-star delicacies to make an amazing meal.
Here are a few suggestions to inspire Friendsgiving treats you'd like to add to your holiday table. Go the easy route by sticking to a compilation of sorts, or get a little crafty in the kitchen with simple recipes that require minimal labor. Whatever you contribute, I can guarantee your hostess and friends will be thankful regardless.