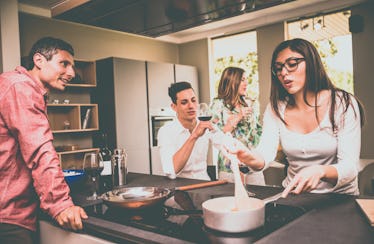 7 Friendsgiving Dinner Ideas For The Squad Who's All About That Baste
Turkey time is going to be here faster than you think, and if you're with the conventional times, you're probably throwing a Friendsgiving party with your squad. As much as your family is great and all, the real turn up happens with your friends. Getting creative with your Friendsgiving dinner ideas will make things more lit than the turkey and pumpkin-flavored drinks.
The whole idea of having a Friendsgiving is creative. It's a slick way to remember that your holiday doesn't have to be filled with just relatives, which can honestly be exhausting. Your friends are truly family anyway, and they certainly know how to have fun. Add in some great food, and there's really nothing that can go wrong.
Keep in mind, though, that your family might be incredibly good at laying things on you in a sugarcoated way. With your friends, there is no room for hosting a lousy meal, because they will be brutally honest and give you a hug afterwards. There's still some element to impress when you have a Friendsgiving, so you can't come up short and mess up a holiday meal. Once again, the Internet has proven its unwavering support with information we need to help us out in the kitchen. So, whether this is your first or fifth Friendsgiving, spice things up with a few of these tricks in the kitchen.