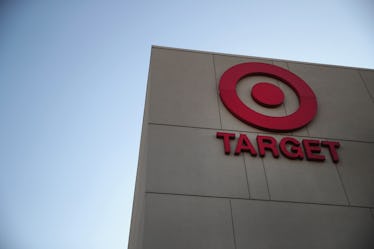 This Is What Time Target Opens On Black Friday For You Early Risers
Scott Olson/Getty Images News/Getty Images
There's nothing more satisfying than long, romantic strolls down the aisles of Target while browsing for items you want and inconveniently forgetting about everything you actually need (i.e. toilet paper). Though a trip to the store any time of the year is pure magic (hello, it is called "Greatland"), the holidays make your shopping spree all the more exciting. "What time does Target open on Black Friday 2017?" you ask — early, very, very early.
Don't eat your way into oblivion on Thanksgiving, because you're going to need your energy the next day to score some sweet deals. Target locations across the country open at 6 a.m., certainly an ungodly hour, especially after a holiday. But Target — the land of all that is good — is extraordinary at any time of day. It might be a struggle to rise before the sun, but have confidence that you can take on the challenge. If you're itching to stay under the covers a little longer, most Target locations close anywhere from 10 p.m. to midnight (check online to see your neighborhood store's times).
So what exactly is in store for those who get up in the wee hours of the morning? Target's sales are definitely cause for celebration for everyone. There is a discount on all TVs, $50 off Amazon tablets, $20 savings if you're thinking about making Alexa a member of the family, $9 movies like La La Land and Wonder Woman, plus much more.
Oh Target, we knew you'd be good to us this Black Friday.
For those who are less inclined to roll out of bed when it's dark, Target allows lazy customers to still participate in the Black Friday frenzy from the comfort of their couch. No need to remove those jammies and slippers — you can still enjoy the deals and perks right from home. This is yet another reason why they call it Greatland, my friends.
Exclusive online-only deals will be available on Target.com and through the Target mobile app, according to the store's site. Whip out a helping of leftover apple pie for breakfast, find your credit card, and get browsing. Time is of the essence this Black Friday.
Even more savings are available online... but there's a catch. If you're a REDcard holder, you're entitled to over 100 Black Friday deals on Target.com before Thanksgiving on Nov. 22. If this piques your interest, head to the REDcard page to get the inside scoop about what you can look forward to this year.
If you can't contain your excitement, stop by Target on Thanksgiving day before you have dessert. Stores are open from 6 p.m. to midnight for those anxious shoppers. It's hard to resist waiting — totally an understandable feeling when Target is concerned.
If you're ready to kick off the holidays with awful morning hours, a bit of chaos, and a myriad of deals, Target is definitely going to be your location of choice. To really get into the spirit of things, stop by the location's Starbucks for a taste of its holiday drinks and its adorably festive cup décor.
Starbucks unveiled its new cups for the 2017 season, and they're guaranteed to fill you with the warm and fuzzies. Though people are accustomed to the iconic red cup, the coffee company decided to put a spin on its classic. This is the first time Starbucks has unveiled a color-in holiday cup for its customers, and there's definitely a special reason why it made this choice.
"I liked the idea of hands as the centering point, a symbol of connection, love and giving joy, whether it's wrapping presents or decorating a tree, writing cards, or enjoying a mug of cocoa," Leanne Fremar, executive creative director for Starbucks, said in a statement. Doesn't that sound like a must for your Chestnut Praline Latte, Caramel Brulée Latte, or Peppermint Mocha?
Now that you've officially been convinced, it's time to get your list ready for Black Friday at Target. Play nice, folks — there are plenty of deals to go around. Happy shopping.
Check out the entire Gen Why series and other videos on Facebook and the Bustle app across Apple TV, Roku, and Amazon Fire TV.