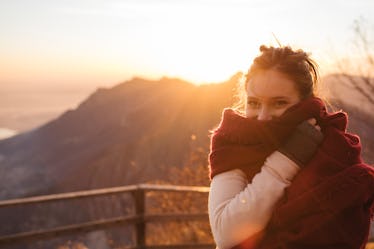 This Is When The Sun Will Set During Winter Solstice, & Yes, It's Early AF
The darkness of night has been eating away at our daytime hours, and I don't know about you, but it's killing my vibes. Luckily, there's an end in sight to this onset of nocturnal nature. On Thursday, Dec. 21, the world will celebrate the long-awaited shortest day and longest night of the year, so we can finally get wintertime over with and bask in the warmth of sunlight once again. But the real question we want answered is this: What time does it get dark during winter solstice? After all, we need to have at least a general idea of what time of day we'll start (slowly, but surely) seeing a bit more of those golden rays of sunshine moving forward.
What's super interesting about the winter solstice is that the actual event takes place hours before the sun goes down. For example, Vox reports that on Dec. 21, the sun will align directly over the Tropic of Capricorn (the southern most latitude) at 11:28 a.m EST. However, the day won't be swaddled in darkness until 4:28 p.m. EST. I use the term "until" very lightly here; any time before 5 p.m. is way too early for a sunset, in my opinion.
It's a total bummer that the day will be short, but you can definitely still make the most of it.
Think back to elementary, or even middle school, when you'd host a few friends for a sleepover. You couldn't wait for the sun to go down so the party could start. My oh my, how times have changed.
I know myself, and even though my bedtime and the hour at which I get up each morning doesn't really change with the seasons, I feel a wave of exhaustion when the sun goes down before 6 p.m. during the winter months. And, sure, there might be a scientific study (or a few, give or take) that prove colder months make us feel tired earlier, but our work or class schedules aren't adjusted to cater to whether or not it's dark outside. The issue isn't the season, it's how we approach it. So, rather than moaning and groaning over the fact that 4:28 p.m. is an ungodly hour for a sunset (because, like I said, I feel you on that one), embrace the dark side.
If you live in or anywhere near the city of lights, for example, celebrate the winter solstice at an indoor rooftop bar like The Skylark in Manhattan, or The Terrace at Rooftop at Exchange Place in Jersey City to enjoy the skyline. You might arrive a little early for markdowns, but that just means you and your girls have a few minutes to spare on selfies overlooking the water.
On the flip side, even if you're not what you'd consider the bar-hopping type, you should still think of the shortest day of the year as a blessing wrapped in shadows. Hear me out, friends: Longer nights translate to a few extra hours of free time to watch your latest Netflix obsession (personally, I will be taking this opportunity to indulge in episodes of The Fosters and Hawaii Five O) . Order some Chinese noodles, veg out under the fluffiest, warmest comforter you own, and treat yourself to some well-deserved R&R.
Whatever you do, don't write the day off just because it's darker than the rest.
It's true that, depending on where you live (cough the suburbs), fun things to do can be pretty limited when the sun goes down. But all that means is you have to think outside the box to figure out how you could be celebrating the winter solstice.
Remember, it isn't the actual winter solstice that's bringing you down; it's your point of view on the winter solstice. If you're whining about it being a little darker than usual, turn that frown upside down and imagine the shadow-cast hours from a glass-half-full perspective because, if you do your research, the shortest day of the year is unlike any other you'll experience.
For instance, according to New York City Patch, the winter solstice is the oldest known winter celebration, surpassing Christmas and even New Year's Eve. In other words, not celebrating would be going against the tradition of humankind. Additionally, it's the one day a year where your shadow is extra lengthy (and kind of creepy looking), and if that's not the ultimate Instagram opportunity, then I don't know what is.
But, if you're still feeling like a Scrooge over the early sunset on Dec. 21, the good news is the shortest day of the year is a one-time occurrence. Put up with it now, and enjoy the next 364 days to come.