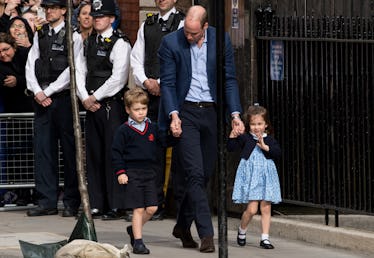 A Body Language Expert Analyzed Pics Of Celeb Dads With Their Kids & It's Accurate
Chris J Ratcliffe/Getty Images Entertainment/Getty Images
Celebrities and their kids: You think you know what they're like, but you have no idea. Or do you? I have never personally seen Obama and his daughters in real life, but I have crafted a near-perfect father-daughter relationship for them in my head. Where did this idea originate? Definitely from some words 44 said in interviews, but also based off of photos I have seen of the Obamas. Celebrity fathers' and kids' body language can be super telling about their relationships.
Well, at least I've heard that it can be. I don't personally possess any body language reading skills, so I reached out to body language expert and author of Persuasion Point: Body Language and Speech for Influence, Traci Brown to see what famous fathers' body language in photos suggested about their relationships with their children.
Of course, the caveat here is that it is impossible to know the intricacies of a father-son or father-daughter relationship based on the public images available of them. "Pictures are just a moment in time," says Brown. "But they can tell us volumes about their real connections." I find it incredibly interesting to hear just how much Brown can deduce from photos alone, but I understand that while a picture is worth a thousand words, it doesn't tell not the entire story. Here's Brown's take on some fathers you may have heard of, from British royalty (Prince William) to American "royalty" (President Obama).