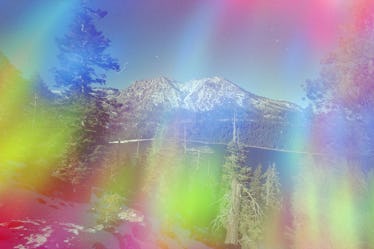 How The Full Moon In Capricorn Will Affect You, According To Your Zodiac Sign
If you're into astrology, chances are you've been secretly dreading the upcoming Strawberry Moon. Not to worry, stargazer. Before I give you the 411 on what the full moon in Capricorn 2018 has in store for your zodiac sign, here's a quick look at this intimidating lunation. For starters, think back to the new moon in Capricorn this past January. What were you up to? What were you working on? Were you content with your job? Full moons are a time of completion, harvest, and spiritual culmination. It's a cosmic synopsis of the last six months, as everything tends to come full circle. Interestingly enough, this full moon is the seventh moon of the year, which ultimately represents a halfway point to the 13 moon phases. Are you ready for it? No pressure; we're all in this together.
The full moon in Capricorn will light up the sky on Thursday, June 28, at 12:53 a.m. ET. A full moon occurs when the moon is exactly opposite the sun. In this case, the sun is in sensitive Cancer, also known as the mother of the zodiac, while the moon is in structured Capricorn, aka the father. As many of you know, Capricorn is incredibly ambitious and pragmatic, as he is the last earth sign of the zodiac. Its symbol is depicted as the goat climbing the mountain, hence its serious demeanor and ruthless determination. Cancer is empathic, while Capricorn is more cutthroat and realistic. These two zodiac signs are polar opposites, hence this energy is asking us to find a healthy balance between our private life and our professional life. See where I'm going with this?
Long story short: Despite the overwhelming reality and intensity, this full moon is offering us fresh start. This is a doorway to new and exciting opportunities.
Here's what this full moon means for you.
Aries: You Better Work
The full moon will light up the area of your chart related to your career, destiny, and reputation in the world. This could ultimately bring you the professional validation you've been seeking. In fact, it could also be the beginning of an exciting career venture. The universe is asking you to take charge, Aries. Trust me, I know you're not complaining. You're always boss.
Taurus: Taking A Leap Of Faith
This lunation will shine across the area of your chart related to spiritual voyages, philosophy, and far away lands. Are you ready to take a risk? Make it an adventure. The universe has your back, Taurus. Don't let your stubborn ways and love for routine get in the way of this incredible opportunity. This is your reality. All your dreams are manifesting.
Gemini: It's Sexy Time
The full moon will illuminate your eighth house of sex, intimacy, and other people's money. Merging mind, body, and soul with someone you love is part of your evolution process. Release your inhibitions. There's no need to be afraid. Are you in debt? This is also a good time to settle your finances.
Cancer: Finding Closure In Your Relationships
This lunation will shine its light across the area of your chart related to partnerships and other people, in general. Given that this energy will highlight your relationship sector, you could finally find a balance between you and your partner's needs. Relationships on the rocks could also find their closure. Don't hold on to the things that hurt you any longer. Nothing is coincidence, as the universe has your best interest.
Leo: Starting A Healthy Routine
The full moon will shine its light across your sixth house of health and day-to-day routine. Are you overdoing it? Or are you not doing enough? This lunation will push you to reevaluate your day-to-day schedule, habits, and work routine. Nothing to be afraid of — you've got this! This is also a good time to finalize an intricate project you've been working on. It's all about the details, Leo.
Virgo: You're Bursting With Creative Passion
This is everything. The full moon will shine across the area of your chart related to authenticity, children, creativity, and passionate romance. This energy ultimately could be the creative muse you've been looking for. Your heart is overflowing with color and shiny authenticity. Look in the mirror, Virgo. You are love. Self-expression is a beautiful thing, and it's your turn to sparkle. Warning: Your swagger will be out of this world.
Libra: Home Is Where Your Heart Is
This lunation will shine its light across your fourth house of home, roots, foundation, and family. Overworked? Overwhelmed? You are the queen of balance, Libra. It's important that you channel that during this full moon. Rid yourself of the things that have been affecting you energetically. You are in control. Listen to your heart.
Scorpio: Time To Get Organized
The full moon will shine its light across your third house of communication, siblings, and local network. Full moons bring completion, hence this lunation could bring news regarding someone in your close network or simply be a reminder to find a balance between work and play. Get it together, Scorpio. The process is never easy, but rest assured, you will always get to the top.
Sagittarius: Owning Your Self-Worth
This lunation will light up your second house of income, values, possessions, and self-worth. Sharing is caring, but to a certain extent. You can't vibrate higher if you're too busy worrying about everyone else, right? This is your life, Sag. What makes your needs any less important? It's time to do what you feel is right. Silence the noise and do you.
Capricorn: Feeling Accomplished
You are in the midst of a personal evolution. This full moon will illuminate your sign, bringing you deep resolutions, reality checks, and closure. Pay attention to the messages you receive during this time. You've come this far, and nothing will get in the way of your success. You've earned it. The spotlight is on you.
Aquarius: You're Embarking On A Spiritual Journey
This lunation will shine its light across your 12th house of healing, closure, subconscious realms, and behind-the-scenes work. Everyone knows you're not the sensitive type, per se, but this energy is highly intuitive and spiritual. You could suddenly realize that you're in desperate need of meditation and solitude. When was the last time you had some alone time? Recharge those batteries.
Pisces: Surrounding Yourself With Friends
The full moon will shine its light across your 11th house of networking, humanitarian efforts, and friendships, bringing you interesting resolutions and closure. In case you were not aware, you are a magical being and the whole world needs you. In fact, this moon could put your compassionate helping hand to the test. You don't need to be anything but yourself, Pisces.