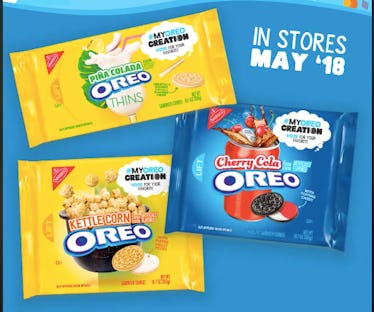 You'll Want To Try All Three Of Oreo's New Flavors Coming In 2018
Cookies are on my brain a lot this time of the year. With holiday baking and cookie exchanges, it's the perfect time to enjoy a seasonal confection. Sometimes, though, it's nice to enjoy a treat without having to do any of the baking yourself. That's when you reach for the Oreos, right, because they're ready to eat straight out of the package. The brand is also no stranger to fun flavors, so you might find yourself wondering, "What Oreo flavors are coming in 2018?"
Well, you can expect three new flavors of the classic cookie to hit grocery store shelves next year thanks to the My Oreo Creation Contest. Fans submitted their best flavor ideas to Oreo from May until July 2017, and then Oreo went to work figuring out the very best ones out of the hundreds of thousands of submissions they received (I volunteer as taste tester!), according PopSugar. In the end, Oreo whittled down the competition to their three favorite flavor submissions.
Oreo took to their Facebook page on Monday, Dec. 11 to announce the three winning flavors, and they are: Cherry Cola, Kettle Corn, and Piña Colada Oreo Thins. Lucky for you, Oreo enjoyed these cookie creations so much that you'll be able to pick up your favorite flavor (or all three) when they arrive in stores this May 2018.
Add these flavors to your 2018 shopping list.
While all three of the flavors sound unique and delicious, I must say that Cherry Cola Oreos with their bright red filling will make for some colorful Instagram posts in 2018.
Prepare yourself for a spring fling with these fun flavors.
Since there were only three winners, that means that some of the other more outside-of-the-box flavors didn't make the cut. For example, you'll have to keep waiting before you can enjoy inventive submissions like Unicorn or Avocado Oreos (maybe 2019?).
Even though the three contest-winning creations won't be available for dunking in your almond milk until the spring of 2018, you can still treat yourself to two new Oreo flavors that can help you ring in the new year. That's right, Chocolate Hazelnut and Spicy Cinnamon Oreos will be available Jan. 1, 2018, so you can hold yourself over with these sweet flavors until the My Oreo Creation Contest flavors work themselves into your regular cookie rotation in May 2018.
It turns out that Oreo really loves holding contests. In fact, just days prior to the flavor news on Dec. 11, the cookie company had another flavor-related announcement. On Tuesday, Dec. 5, Oreo finally announced the answer to the Mystery Flavor contest that ran from August until November 2017. The contest was pretty much what it sounds like: Oreo released a Mystery Flavor package, and fans could enter their guesses as to what flavor it was for a chance to win $50,000. I know you can no longer win the money, but I'll tell you that the Mystery Flavor was Fruity Pebbles.
Unfortunately, they won't be adding Fruity Pebbles to the regular Oreo lineup, but you can still snag a package of the Mystery Flavor Oreos while supplies last.
I know, I know, all of this Oreo cookie flavor news can be tough to keep up with, but thankfully, the company is staggering the releases (January and May 2018), so you'll have plenty of time to give each new flavor its proper due. Keep your eyes peeled in the grocery store, though, because you never know when Oreo might sneak a brand-new flavor into the cookie aisle.
Check out the entire Gen Why series and other videos on Facebook and the Bustle app across Apple TV, Roku, and Amazon Fire TV.
.