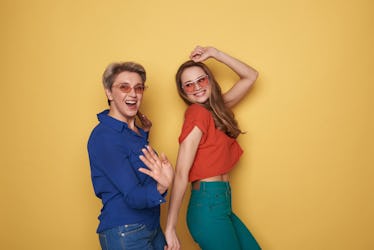 10 Underrated Ways Moms Really Are Best Friends Forever
If you have an incredible relationship with your mom, there's no denying that she's the greatest of all time. She's a role model who inspires you to be the best version of yourself, and reach for the stars on the daily. She loves you unconditionally, and is always there when you need her, no matter where she may be on the grid. (Oh, and she makes the best chocolate chip cookies ever.) To quote Mean Girls, your mom's a "cool mom." You might even call her your best friend, but what makes mom special and your best friend forever?
Obviously, loving you since day one — and for the rest of your life — factors into the forever part, but it's all the other amazing things she does that are honestly really underrated. I could go on and on about my own mom. She's the first person I call when I have great news to share, my favorite travel partner, and she always has the best advice I need to hear (even when I don't want to hear it). I've had a few best friends in my life, but I always compare them to my mom. She's just that awesome.
If you have a mom who's your BFF as well, you understand these 10 things that truly make her one of a kind. I'd say it's time to call her up or give her a big hug right now, because there's no one in the world quite like her.