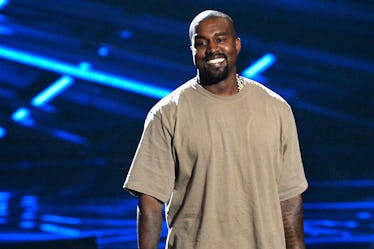 Here's Everything We Know About Kanye West's New 'Yandhi' Album
Kevork Djansezian/Getty Images Entertainment/Getty Images
Kanye West is all set to release a little something called Yandhi on Saturday, Sept. 29. But what is Yandhi? Well, Yandhi is West's ninth studio album. The album will be his third one released in 2018, so you could definitely say that West is on a serious creative streak this year.
Given that West has released so much content over the last nine months, it's probably a good idea to take a step back and fully grasp what will make Yandhi different. So, here's what's known about the album so far:
1. The build-up to the album has been relatively low-key.
One could hardly describe Kanye West as a low-key celebrity. He is married to Kim Kardashian, has made himself somewhat of an ally to Donald Trump, and gone off about slavery being a choice (he's since distanced himself from that opinion). So, he's definitely someone who's used to making headlines. And that's exactly why the lead-up to Yandhi is so surprising.
There's been little fuss about the album so far, save for a few social media posts from the rapper himself. While his previous album Ye was announced months in advance, West announced Yandhi just 10 days prior to its official release date. Maybe this will be West's style moving forward.
2. It's probably a follow-up to Yeezus.
Fans are theorizing that Yandhi is going to be a follow-up to Kanye's sixth studio album, Yeezus, which was released back in 2013. The album cover art, which he released on social media, looks nearly identical to the Yeezus cover art.
Here's the Yeezus album cover:
And here's the cover art for Yandhi that he teased on Instagram:
Pretty similar, huh?
3. The album drops on the same day the new season of SNL premieres.
West has very smartly coordinated his album release to coincide with the new season of Saturday Night Live. And — you guessed it! — West is going to make a special appearance to perform some tracks, presumably, from the new album.
Here's what West's album announcement looked like on Insta:
4. "XTCY" is probably going to be on it.
Back in August, West made headlines with "XTCY," a song in which he basically admits he'd have no problem bedding the Kardashian-Jenner sisters. And that song is likely going to be on Yandhi since it was cut last minute from the Ye track list.
In the song, West raps, "You got sick thoughts? I got more of 'em / You got a sister-in-law you would smash? I got four of 'em."
Then later, he continues, "If you don't say your name then I won't ask / She got a smartphone but a dumbass / I thought of all this on ecstasy."
Aside from that, though, you're also likely to see "I Love It" on the album as well. The video for it is truly wild. Here's a look:
5. It was probably recorded in Chicago.
West has been spending lots of time in Chicago and reportedly has plans to move there permanently. So, it makes sense that Yandhi was likely recorded somewhere in the city that the rapper loves so much. I wonder how much of Chicago's influence will be heard on the album. I'm sure there'll be plenty of Windy City references throughout the whole thing.
In any case, fans are waiting with bated breath for Yandhi to be released. Bring on Sept. 29!