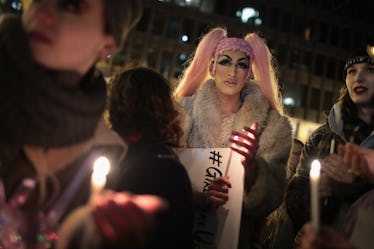 Here's How To Show Up For Trans People On Transgender Day Of Remembrance
Nov. 20 marks the International Transgender Day of Remembrance, a time to mourn and honor trans lives that have been lost to to anti-trans violence over the past year. In its 19th year, Trans Day of Remembrance is observed in the United States, and around the world. Yet, many partakers may be surprised to discover that this event grew out of transphobic violence in Boston, MA — close to two decades before trans protections were legalized in Massachusetts.
On Nov. 28 1998, Rita Hester, a trans woman of color, was murdered in her own apartment in Allston, MA. Her death — two days before her 35th birthday — generated much anguish and anger within trans as well as Black queer communities, both locally in Boston and nationally across the states. A week after the tragedy, close to 250 people came together to mourn and celebrate both Hester and all of the trans lives lost to transphobic violence that year. Hester's death, and the growing murder rates of of all trans people across the country, inspired San Francisco-based trans advocate Gwendolyn Ann Smith to create a web project titled "Remembering Our Dead," to honor the memory of those lives lost to anti-trans violence. In 1999, a year after Hester's death, Smith organized the first vigil in San Francisco, burning a candle for every trans life lost that year. This night grew into Transgender Day of Remembrance, an event now observed annually around the world.
This year, we mourn at least 22 transgender people killed in the United States in 2018. It's important to acknowledge that these reports are likely undercounted, as many trans deaths go unreported or incompletely reported each year and many trans victims are misgendered in their memorials, and therefore, not identified as trans by the media. According to a 2018 report by the Human Rights Campaign (HRC) Foundation, of the recorded lives lost this year, 82 percent were women of color, 64 percent were under the age of 35, and 55 percent lived in the South.
Today we remember: Christa Leigh Steele-Knudslien, Viccky Gutierrez, Celine Walker, Tonya "Kita" Harvey, Zakaria Fry, Phylicia Mitchell, Amia Tyrae Berryman, Sasha Wall, Karla Patricia Flores-Pavón, Nino Fortson, Gigi Pierce, Antash'a English, Diamond Stephens, Keisha Wells, Cathalina Christina James, Sasha Garden, Dejanay Stanton, Vontashia Bell, Shantee Tucker, Londonn Moore, Nikki Enriquez and Ciara Minaj Carter Frazier.
We also mourn at least 309 trans people who were killed over seas. In their yearly report on trans violence, the HRC discovered that trans people are 1.5 times more likely to receive threats of violence and intimidation than the rest of the LGBTQIA community, and that 78 percent of trans students in grades K-12 report facing harassment in school.
In light of the growing rates of violence against trans people, especially trans people of color, as well as current political actions taken against trans people this year, Trans Day of Remembrance serves as a time to heal and mourn, as well as to educate ourselves about transphobia, and the intersectionality of race, class, ability, and other social categorizations, which put trans POC at higher risks for violence. It is a time to listen and support trans people, and to honor the lives lost to transphobia. It is a day to remember our parts in dismantling systems of oppression, and to validate that violence and marginalization against trans people, especially trans women of color, is real and deadly.
There are many ways to participate in the Trans Day of Remembrance. Most events follow the candle vigil structure, reading or publicly listing all trans lives lost in the previous year and lighting a candle for each name. Many queer centers will hold panels or workshops, as well as receptions or marches. There are lots of resources available for people who want to hold their own events, to find events near them, or even start events in their cities or towns. Many people acknowledge November as Transgender Awareness Month, as well as Nov. 12-19 as Transgender Awareness Week.
Attending a vigil or march and looking into volunteer opportunities at queer or trans orgs are good way to show up for trans people and show your support in the fight for trans rights. As is educating yourself on the rates of violence against trans people, the lack of coverage and accuracy in the recording of trans death, the correct way to speak about trans identity, and the history of trans women of color behind all LGBTQIA rights movements and modern Pride celebrations. (If you've never read about the Stonewall Riots, Marsha P. Johnson and Sylvia Rivera — this would be an ideal time to start!) At a higher rate than any other queer group, trans women of color, like Rita Hester, give their lives for queer rights, and should be at the forefront of any Trans Remembrance event.
In addition to attending vigils, the Trans Day of Remembrance is a good time to donate to orgs that do amazing work for trans liberation, read works by trans writers, hear music from trans artists, and offer support to trans people — in whatever way you are able.
Transgender Day of Remembrance can be an incredibly triggering and upsetting 24 hours for trans women of color, all trans people, and those affected by transphobia. Taking time to educate yourself on the lives of trans people and offering solace to those affected in whatever way you can, can increase representation of trans supporters and aid in the fight for the safety of trans people.
If you or a loved one are trans and need support, The Trans Lifeline, (877) 565-8860 is 24/7 crisis hotline national led by trans people giving emotional and financial support to trans communities, including trans people that are undocumented and incarcerated.