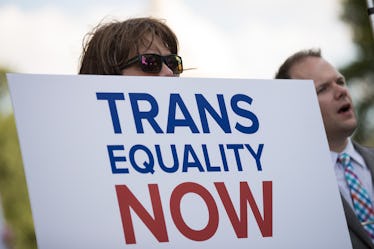 Here's How To Support Trans Rights After Trump's Reported Gender Definition Proposal
Drew Angerer/Getty Images News/Getty Images
According to a report published yesterday by The New York Times, the Trump administration is considering an initiative that would threaten protections for transgender people under federal law. The Times obtained a reportedly leaked memo in which the Department of Health and Human Services reportedly moved to legally define gender under Title IX as "biological, immutable condition determined by genitalia at birth" and sex as "either male or female, unchangeable, and determined by the genitals that a person is born with." Many worry that these purported changes will work to erase the identities and undermine the rights of transgender and gender nonconforming individuals. Wondering what you can do to help impacted communities? Here's where to donate to support transgender rights, because you can still step up.
In a statement shared with Elite Daily, HHS National Spokesperson Caitlin Oakley says the department does not comment on "alleged, leaked documents," adding that "everyone deserves to be treated with respect" and saying that the HHS Office for Civil Rights would "enforce all laws as written and passed by Congress" prohibiting discrimination. Her statement also referenced the definition of sex under the Obama administration, saying in part,
The Obama administration's broad definition of 'sex' was enjoined by a federal court on a nationwide basis in December 2016 and the Obama administration did not appeal. That court found that the Obama administration regulation was overbroad and inconsistent with the text of the 1972 Title IX law prohibiting discrimination on the basis of sex. The court order remains in full force and effect today and HHS is bound by it as we continue to review the issue.
Title IX is a federal law that prohibits discrimination, exclusion, or denial of benefits in educational programs and activities on the basis of sex. It applies to institutions that receive federal funding, including state and local education agencies. If the change described in the reported memo is implemented, it would mean that federal agencies would not legally recognize a person's gender to be anything other than the one based on genitalia at birth, which would limit the legal recognition of trans and non-binary identities and potentially undermine protections against discrimination.
With this in mind, here are seven places that work to support transgender and gender nonconforming people. Consider donating your time or money.