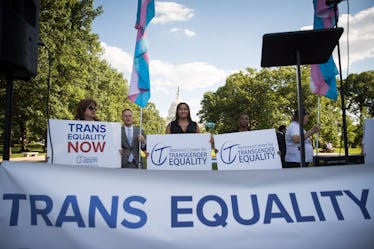 The Definition Of Sex Under Title IX May Seriously Threaten Transgender Protections – UPDATE
Drew Angerer/Getty Images News/Getty Images
A memo obtained by The New York Times details a reported initiative by the Department of Health and Human Services (HHS) that many feel would threaten protections of transgender people under federal law. The HHS seeks to establish and standardize a definition of sex under Title IX, where "sex" is: unchangeable, based on genitalia at birth, categorized as only male or female, and discernible using genetic testing, in case there's a dispute. This has caused an uproar in the LGBTQ community. Elite Daily reached out to the HHS for comment but did not hear back by the time of publication.
UPDATE: While the HHS declined to comment on the alleged leaked memo, Roger Severino, head of the Office of Civil Rights at the Department of Health and Human Services, gave the following statement to Elite Daily, "A federal court has blocked HHS's rule on gender identity and termination of pregnancy as contrary to law and infringing the rights of healthcare providers across the country. The court order remains in full force and effect today and HHS is abiding by it as we continue to review the issue."
EARLIER: This reported memo comes as a response to Obama-era decisions that framed the definition of sex as an individual's choice and attempted to make bathrooms, locker rooms, schools, prisons, and homeless shelters safer for trans people.
This rollback on federal protections for trans people is consistent with the Trump administration's anti-trans policies and practices, including the Department of Health and Human Services' plan to exclude transgender people from the Affordable Care Act's non-discrimination provisions, the Department of Education's dismissal of complaints from transgender students, and instructions given to staff at the Centers for Disease Control and Prevention (CDC) to not use certain words, including "transgender," in official documents.
People on Twitter are responding to the news with critical analysis and personal commentary explaining why this new definition of sex will harm transgender communities across the United States — and why now is a crucial time for action.
As news of the HHS memo circulates, voters in Massachusetts are faced with a problematic referendum of their own — whether to uphold or repeal protections for transgender people in the state. This referendum will appear on the ballot despite a law Gov. Charlie Baker signed in 2016 that aimed to protect transgender individuals from discrimination in public places like restrooms, locker rooms, restaurants, stores, and medical offices. Now, the fate of these protections will be in the hand of Massachusetts voters on election day, with a "yes" vote to uphold protections and a "no" to repeal them.
According to the Transgender Law Center, only 19 states and the District of Columbia score well on their non-discrimination laws and policies against transgender people. States like North Dakota, Kansas, Oklahoma, Louisiana, Arkansas, Virginia, Tennessee, Mississippi, Alabama, North Carolina, and South Carolina score in the negatives, meaning religious exemption laws or rules barring cities and counties from passing non-discrimination laws prevent protections for transgender people.
In negative scoring states, transgender people are reportedly not protected from bullying and discrimination in schools, may not have access to healthcare, usually are unable to change their name or gender marker on state-issued ID, and can be fired, evicted, and even removed from public spaces without cause. The same Transgender Law Center report also noted that states are more likely to have low or negative scores when it comes to gender identity than they are to have low or negative scores for sexual orientation.
A Twitter thread written by the National Center for Transgender Equality, discusses what this proposed rule would not eliminate:
In the name of preempting some misinformation, let's talk about what this proposed rule would NOT do. It would NOT eliminate the precedents set by dozens of federal courts over the last two decades affirming the full rights and identities of transgender people. It would NOT undo the consensus of the medical providers and scientists across the globe who see transgender people, know transgender people, and urge everyone to accept us for who we are. And NO rule—no administration—can erase the experiences of transgender people and our families. While foolish, this proposed rule deflates itself in the face of the facts, and the facts don't care how the Trump administration feels.
All that can be done now is waiting to see what comes of the reported memo.