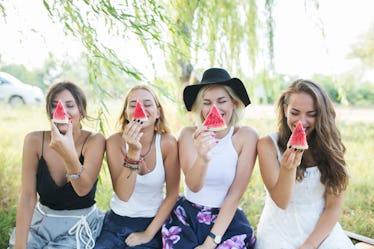 The "Zodiac Diet" Is A Real Thing, So Here's How To Eat For Your Sign
Hey girl, what's your sign? No, this isn't a cheesy pick-up line, it's research. If you're anything like me, your zodiac sign is as much a priority as your blood type — aka, it's not, really. Then again, maybe you and I are polar opposites, and checking your horoscope is like a morning ritual: brush your teeth, drink your coffee, read up on the inevitable fate the stars and planets have in store for you. Either way, you probably are, or know of someone who lives by the zodiac — but do you know what the zodiac diet is? The concept is pretty straightforward if you ask me, eating based on your astrological sign, but don't be fooled; just like your horoscope, the diet you're supposed to follow based on your sign is pretty specific.
Now, just to be clear, at least as far as my research goes, the zodiac diet isn't supported by science, and it's definitely not a regimen you should, in any way, feel pressured to abide by. From what I can tell, it's just a fun way of thinking about food based on your zodiac sign's personality traits. In other words, take the following suggestions with a grain of salt, but if you're curious to find out how the stars align in order to create the ideal meals of your sign, read on.