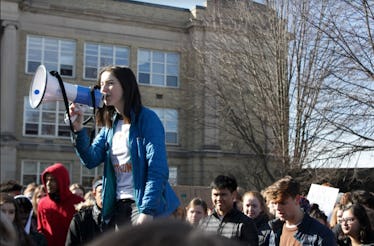 This Teen Activist Is Giving You One Good Reason Why You Should Get Out & Vote
Courtesy of Future Coalition
Voters nationwide are gearing up for a big day at the ballots as the 2018 midterm elections get underway. But a subset of these voters, those still in school, will be leaving their classrooms en masse on Tuesday to send a message that they intend to make their voices heard at the ballot box. So what is the Walkout To Vote? Elite Daily talked to Katie Eder, 19, one of the youth activists leading the walkout.
This latest youth-led initiative is bringing together young people across the country to show solidarity at the polls on Election Day, with students walking out of class and heading straight to the polls to cast their votes. The walkout itself is slated to take place at high schools and colleges across the country at 10 a.m. local time on Tuesday, Nov. 6. Some 500 walkouts are already registered nationwide, Eder says, of varying size; the coalition is expecting "thousands" of participants.
Following #NeverAgain, March For Our Lives, and other student-led initiatives in the spring, Eder, 19, co-founded the Future Coalition, a national network of youth activist groups, this summer with other student leaders. The group, which is sponsored by political organization March On, united around one goal: To get students to the polls this November.
"We're the only generation [of voters] where the results of what happens tomorrow are going affect us in 40 years, 50 years," Eder tells me in an interview for Elite Daily. "We're all fighting for our future."
But getting people to the polls is just one reason for the walkout. "The goal of [the] walkout, in addition to making sure young people show up to the polls, is to really send this message to the country and to politicians that young people are unified in our demand for change and are united across various issues," Eder says. The issues they're focused on: gun violence, social justice and equality, and climate change — all issues that younger generations will have to grapple with for the majority of their lives. Millennials, Gen Xers, and the post-millennial age bracket now comprise the largest voting bloc in the country, per the Brookings Institution.
The stakes going into Election Day, she emphasizes, are high. "We have to vote — we have to," she stresses. "If voting wasn't important, it wouldn't be so hard. People have made it really hard for young people to vote because they don't want to hear our ideas," she says, addressing voter suppression and efforts to sideline would-be voters.
Voter ID laws and poll access especially may make it harder for young people to vote, per Brookings. In Wisconsin, for example a new voter law in 2016 required voters to show state-issued IDs — identification that college students, especially those from out-of-state, may not readily have, given that fewer young people are getting drivers' licenses to begin with. According to the Campus Vote Project, six states don't accept college IDs on their own to cast a ballot.
To any young, first time voters dubious that their vote really matters, Eder adds, "We have to realize the impact that we can have as a generation, as young people. We as a collective voice have so much impact and so much power in this election."
While voter turnout has historically been low among young people, averaging around 30 percent per the Elections Project, projections signal that this year could be different. So even if it may not seem like individual votes make a difference, it's worth noting that few things are beyond the realm of possibility in this election.
Though the political climate is tense, Eder thinks the time is ripe for young people to capitalize on the momentum they've created. She notes, "Adults are more willing to listen to us."
In the same vein, few people could've predicted the massive turnout among student-led campaigns like the March For Our Lives — one of the more than a dozen Future Coalition partners. "It's been a crazy ride," Eder says. "A year ago I probably had no idea any of this was going to happen. ... It would've been impossible to predict how much young people [now] are getting noticed."
Eder acknowledges that young and new voters may feel intimidated about casting their ballots for the first time, or doubt their own legitimacy as voters.
"When I turned 18 I had no idea how to register to vote," Eder says. "I was so embarrassed because I felt like everyone around me knew." When she finally broached the subject with her peers one day in the library, it turns out, no one else knew, either. "We sat there together and figured it out and all registered together," she says. (ICYMI: Here's a good guide to checking that you're registered.)
"I think — and I have it too — we all look around and think everyone around us knows more or is more informed," she says. That, she says, isn't a reason to discredit one's right to vote. "The best thing is to inform yourself."
Her takeaway: She encourages voters to start the conversation with peers. Together, they can research what's on their ballots with online voter guides, discuss ballot measures and candidates, and make plans to get to the polls together. There's strength in numbers, and first-time voters don't need to go it alone.
On that note, young people of all ages are encouraged to show up on Tuesday. Walkout to Vote stresses that even those who aren't eligible are welcome to still show their solidarity. (Those interested can find out where to participate here. Students should be aware, though, that school districts can penalize students for leaving class, even to exercise their right to vote or protest.)
When put together, the votes of this generation "can have immense power," Eder says. "We have the opportunity as young people to make change. You have to play your part — it's your future, and it's the future of your friends and family."