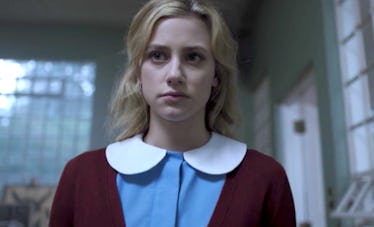 The Latest 'Riverdale' Cliffhanger Teases Shocking Information About The Gargoyle King
CW
The Gargoyle King got closer than ever to our core four in this week's episode of Riverdale, but the true identity of the bone- and branch-covered monster is still a mystery. However, the very last moment of Wednesday night's new episode dropped a major clue about who could be behind the whole Gargoyle King plot. After this big reveal, fans might be wondering what is the Sisters of Quiet Mercy on Riverdale, and how might the shady shelter be connected to the Gargoyle King. Let's dive into everything we know about the strange asylum and how it could play into this season's big mystery.
Spoiler alert: Do not read on if you have not yet watched Riverdale Season 3 Episode 6, "Manhunter." The Sisters of Quiet Mercy has been an unsettling presence in Riverdale since the show's first season, and the end of Wednesday night's latest episode reveals that it could be the key the the Gargoyle King mystery. After the Gargoyle King suddenly appears to Alice and Betty in the Coopers' living room, Alice decides their home is no longer safe and intends to stay with Polly at The Farm, the mysterious new cult that has enticed all the Cooper women by Betty. But instead of taking Betty with her, Alice has her daughter taken away to the Sisters of Quiet Mercy, the home for troubled youths that has housed both Betty's mom and sister before her.
Of course, Betty has already had enough interactions with this creepy orphanage/halfway house/conversion therapy camp to know that she is not going to have a good stay here, and all of her fears are multiplies almost immediately after she is led inside. During an art class, Betty sees that every single inhabitant at the Sisters of Quiet Mercy is creepily painting pictures of the Gargoyle King.
So, what does it mean? Clearly, the Gargoyle King must somehow be connected to the Sisters of Quiet Mercy, but how? Well, to try to figure that out, it will be helpful to look back at everything we have learned about the Sisters of Quiet Mercy throughout the first two seasons of Riverdale.
In Season 1, Alice Cooper sends Polly to stay at the Sisters of Quiet Mercy to hide her pregnancy by Jason Blossom. We also learn that Alice also stayed at the shelter at the end of high school when she discovered she was pregnant with her son, Charles Smith, whom she kept secret from her husband Hal Cooper and Charles' father F.P. Jones. Charles was raised at the Sisters of Quiet Mercy, but was never adopted and had to live on the streets once he came of age. His friend Chic told Alice and Betty that Charles was dead now, but some fans believe Chic may have been lying about that. Other notable residents of the Sisters of Quiet Mercy include Penelope Blossom, who was adopted into the Blossom family from the orphanage, Cheryl Blossom, who briefly underwent conversion therapy there, and Joseph Svenson, who was raised there and became one of the Black Hoods in Season 2.
Of all these connections, the ones that stand out as the most prominent for the purposed of the Gargoyle King mystery are Polly Cooper, Charles Smith, and Penelope Blossom. Penelope is already a suspect since she is part of the Midnight Club, and possibly murdered Daryl Doiley as well. Polly Cooper developed very close ties to The Farm shortly after her time at Sisters of Quiet Mercy, and many fans think The Farm and the Gargoyle King must be somehow related. And finally, Charles Smith is still a big mystery among fans of the show who still believe Alice and F.P.'s secret son may be alive and plotting revenge for being abandoned.
Next week's episode should clarify why everyone at the Sisters of Quiet Mercy is obsessed with the Gargoyle King, so hopefully we can narrow down our suspect list after that.