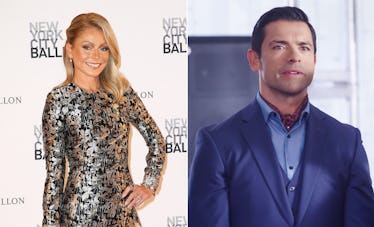 Kelly Ripa Is Officially Joining 'Riverdale' To Play Hiram Lodge's Mistress
Dominik Bindl/Getty Images, CW
Now that her husband and son have starred on Riverdale, it is Kelly Ripa's turn to show up in the dark, dangerous town. On Tuesday, Ripa took to Instagram to announce that she will be appearing on Riverdale this season in a salacious new role. So now that we know Kelly Ripa is joining Riverdale, let's go over who she will be playing and how her character will shake things up in the show's third season.
For fans of Riverdale, Kelly Ripa's role on the show was only a matter of time. The series cast Ripa's husband Mark Consuelos to play the major part of Veronica's mafia-boss father Hiram Lodge in Season 2, and more recently, the show brought in Ripa and Consuelos' son Michael Consuelos to portray a teenage version of Hiram Lodge in this season's flashback episode. Ripa even moderated the Riverdale Comic-Con panel this summer to prove her devotion to the hit teen series even more, and now she will finally be an actor on it.
According to Entertainment Weekly, Kelly Ripa's character will be a confident and tough woman named Mrs. Mulwray. Ripa posted a first-look photo at her new character on Instagram, and revealed that Mrs. Mulwray will be Hiram Lodge's mistress. That means that fans can look forward to some steamy scenes between real-life married couple Kelly Ripa and Mark Consuelos in a future episode of Riverdale, and also a heaping helping of drama if either Veronica or Hemione Lodge find out that Hiram is cheating on his wife.
The name of Kelly Ripa's character, Mrs. Mulwray, is a nod to the 1974 noir mystery film Chinatown, in which Faye Dunaway played a femme fatale named Evelyn Mulwray who found herself tangled up in a large conspiracy.
Unfortunately, Kelly Ripa did not reveal much else about the story arc of her character or how many episodes she will appear on Riverdale this season. Mrs. Mulwray could feasibly become an important recurring part on the show, similar to Hiram Lodge in Season 2 and now Season 3, or Ripa's lady of mystery may only show up in one episode, like Michael Consuelos' brief turn as teenage Hiram. We also do not know when Ripa's character will show up this season yet, so we will just have to wait to see.
But we can safely assume that when Kelly Ripa shows up on Riverdale, she is going to majorly shake things up for the Lodge family. Currently, Veronica is looking for any opportunity to take down her criminal father Hiram Lodge, and it also finally seems like her mother Hermione Lodge, who is now the mayor of the town, is possibly open to helping her daughter. If the two women discover Hiram's mistress, it could be just the thing to cause Hermione to turn against her husband completely.
Before we meet Kelly Ripa's character, her son Michael Consuelos will make his Riverdale debut on Wednesday night's new episode, "The Midnight Club." Riverdale airs Wednesday nights at 8 p.m. ET on the CW.