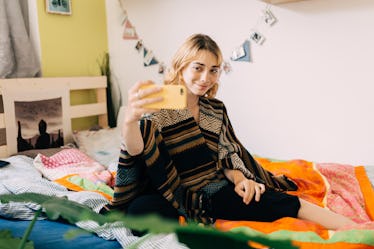 This Pinterest Trend Is Still Going Strong On TikTok & The Results Are Shocking
Igor Ustynskyy/Moment/Getty Images
Pinterest and TikTok have come together for the ultimate selfie hack, and the results are shocking. While scrolling through your "For You" page, you may've come across the hashtags #pinteresttrend and #pinterestlookalike a lot since Feb. 2021. Those tags will lead you to dozens of videos featuring TikTok's Pinterest lookalike trend... which will inevitably lead you to hours of fun (and not sleeping).
Here's how the Pinterest lookalike trend works: After snapping a photo of your face, you're able to see what celebrity, influencer, or other human being you look like. To try it for yourself, make sure the Pinterest app is downloaded on your phone. Then, open the app and head to your "Search" tab. This tab shows you categories you may want to browse like "stylish outfits" or "vegetarian dishes," but you're going to hit the camera button in the top search bar.
Your phone's camera will be activated with your permission. Once it's all set up, take a selfie in good lighting. Rainbow dots will start to scan your face, before pulling up a list of images that are considered similar. Those images are your lookalikes, your doppelgängers. You may be completely shocked by them, like some TikTokers, or happily surprised.
These TikTokers shared their results on TikTok, so you can see not only how the Pinterest lookalike trend works, but how they reacted to their results. Giggles and jaw drops up ahead.