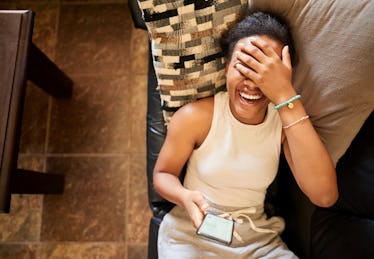 This New TikTok Trend Turns Your Texts Into Inspirational Quotes & It's Hilarious
AJ_Watt/E+/Getty Images
If you've ever gotten a lackluster text, like a simple "k" response, TikTok has found a way to turn that into something truly hilarious. It's like taking a lemon and making some LOL-worthy lemonade out of it. So, if you've got a few less-than-stellar text conversations in your phone, it's time you joined in on the fun and learned how to do TikTok's inspirational quote trend for yourself.
Right now, you may find the inspirational quote trend all over your "For You" page. It's where people take the hilarious texts they've received from loved ones and use them to make inspirational quote pictures. It's all set to the iconic song "A Thousand Miles" by Vanessa Carlton, which only makes this trend even better. Since it works best with your most uninspired quotes, a lot of TikTokers are using this trend to showcase some things their partners have said to them or disappointed texts they've gotten from family members. But you can truly do this trend with anyone's words.
After picking your texts, Photoshop or use an inspirational quote maker online to copy and paste the words into images of gorgeous flower fields and beachy sunsets. Once you have those images saved, it's time to start recording. Click on "Add Sound," and find "A Thousand Miles" to use in your video. For the first 10 seconds of the song, record a video of the person whose texts you will be showcasing or just a video of yourself. You can even use an old video in your camera roll using the green screen video effect.
When the music drops and Vanessa Carlton comes in singing, that's when you use the green screen image effect to show off your inspirational quotes. Before posting, make sure you use the "Text" editing tool to add some sort of text upfront, letting the viewer know what's up. If you need more inspiration before posting your own. Here are seven inspirational quote TikToks that are too funny.