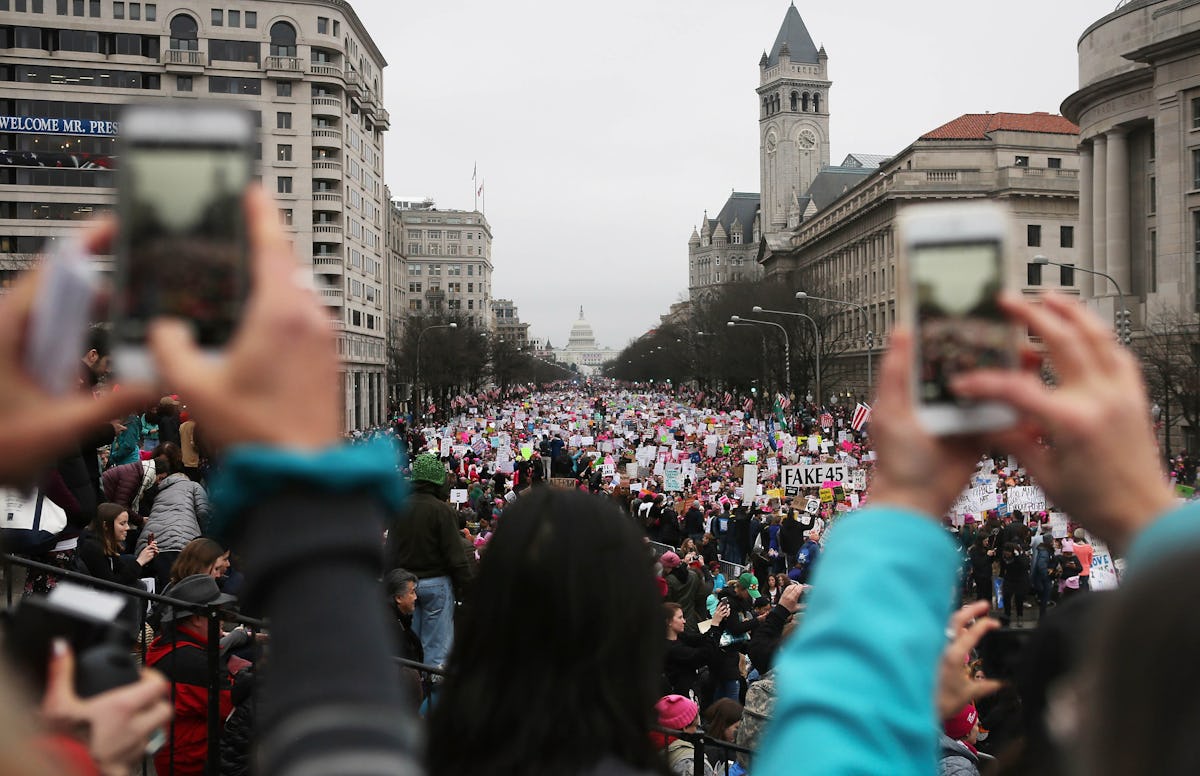 Here's What To Know About The People's March On Washington
Mario Tama/Getty Images News/Getty Images
In the past few days, there have been tons of marches across the country that have brought together hundreds of thousands of people from different walks of life to fight a common cause. There's just something so joyous and empowering about seeing people stand up for what they believe in, and I don't blame you if you feel like you're on a roll and just looking for the next march. So with it coming up in just a few days, you may be wondering what the People's March on Washington is.
The People's March on Washington (aka The Impeachment March) is organized by People Demand Action, an organization that is committed to "the vision of standing up for a fairer, caring, more inclusive America," according to the event's Facebook page, where 25,000 people expressed interest. The page also notes that the organization strives to build a "brighter future" for the next generations. The march will "demand the impeachment and removal of Donald Trump and to fight to protect the rights of all marginalized people, equal rights, social justice, our safety as citizens, and our democratic process," according to the organization's website.
The march is set to begin on Jan. 27 at 11:00 a.m. at the Lincoln Memorial in Washington D.C., and there are additional marches planned on the same day throughout the country in places like Arkansas, Washington, Indiana, Pennsylvania, and Utah. After its rally, the march will begin at 1:15 p.m. According to its Facebook page, the march is "part of the national grassroots movement — bringing ordinary people together to call attention to the needs of all Americans living in our democracy." So far, almost 3,000 people have RSVP'd for the event.
The event is seemingly in response to President Donald Trump and strives to have him impeached from office, however, similar calls have been made against Trump since he took office in January 2017. The president has been heavily criticized for his stances on immigration, taxes, health care, and more.
However, some are wondering how legit the protest actually is.
According to a Dec. 30 Medium post by Dave Troy, there isn't a notice that a permit has been approved — the march's official Twitter account tweeted out a number for an "official permit" on Dec. 15, but did not elaborate — and there's no official list of speakers, board members, or team members available for People Demand Action. The article alleges that People Demand Action is, in fact, a front to legitimize the march and notes that the march's GoFundMe doesn't have a specified beneficiary listed.
A report from The Daily Kos highlighted many of the same issues, including lack of information available about the march's parent organization, the We Are One Foundation.
Organizers for the march did not respond to multiple requests for comment from Elite Daily, and did not respond to questions regarding permits or speakers.
The march isn't the first call to impeach Trump.
Tom Steyer, a Democratic donor and ex-hedge fund manager started a petition to impeach Trump last year. It currently more than 4 million signatures. On Oct. 28, 2018, Steyer told TIME that Trump is "an immediate danger to the health and safety of America," largely because of his incessant and aggressive threats to North Korea, his statements undermining Americans' First Amendment rights, his alleged ties to Russia, his response to white nationalist violence in Charlottesville, and more. Steyer has placed ads on social media and television that cost him "well over" $10 million, according to TIME.
On Dec. 5, 2017 Rep. Al Green also called for Trump's impeachment in a resolution, citing bigotry, hatred and hostility as reasons for the motion. He wrote,
Donald John Trump has, by his statements, brought the high office of President of the United States in contempt, ridicule, disgrace and disrepute, has sown discord among the people of the United States, has demonstrated that he is unfit to be President, has betrayed his trust as President the United States to the manifest injury of the people of the United States, and has committed a high misdemeanor in office.
His resolution gained support from 58 Democrats, despite rejections from Minority Leader Nancy Pelosi and Democratic Whip Steny Hoyer.
The march comes just days after the Women's March, held on Jan. 20, which attracted hundreds of thousands of participants in multiple different states (more than 200,000 in New York alone) who protested women's rights, racial divides, immigration, LGBTQ+ equality, and other issues.
With just a few days until the Impeachment March and off the heels of several huge marches across the country, perhaps there will be an unexpected, united front of people that come together to support a common cause. If the Women's March had such a huge turnout, there's no telling what this one will bring.