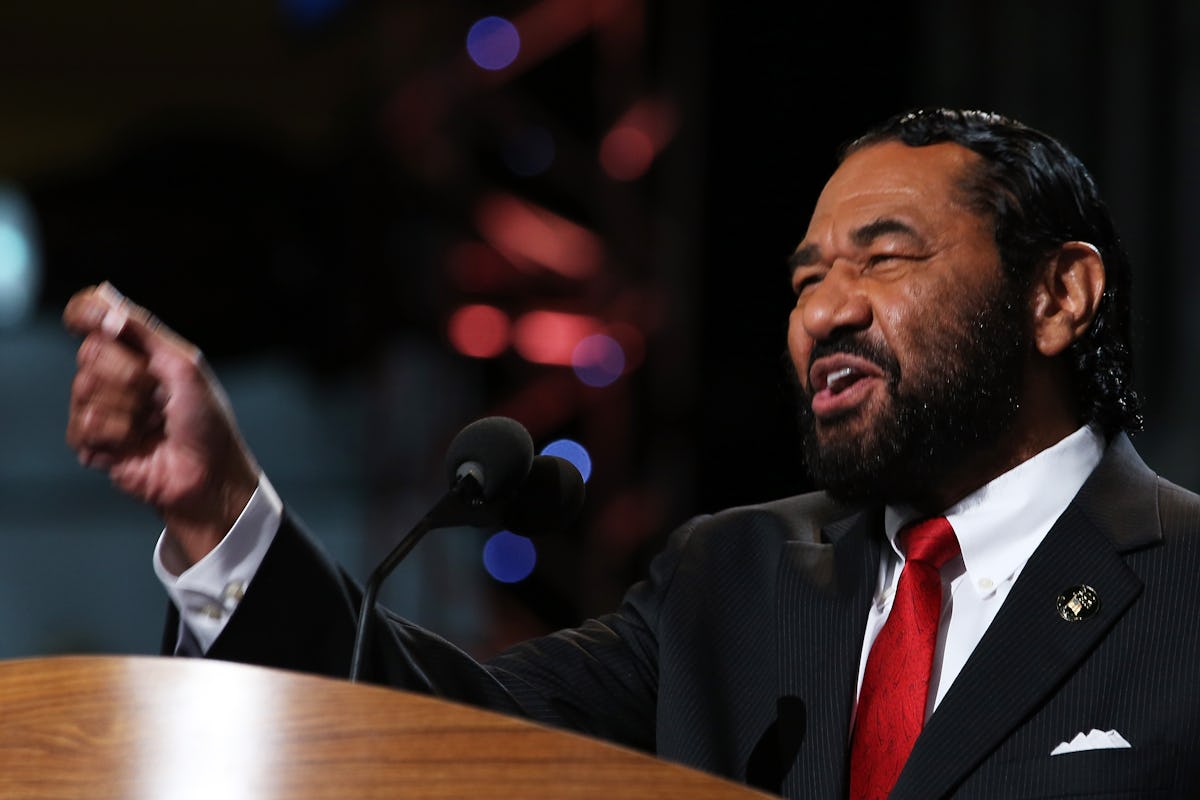 A Democratic Congressman Is Forcing A House Vote On Impeaching Donald Trump
Chip Somodevilla/Getty Images News/Getty Images
On Tuesday, Dec. 5, Rep. Al Green (D-TX) said he would formally bring the subject of impeaching President Donald Trump to the floor of the House of Representatives and seek to prompt fellow members to vote. Now, a day later, he has fulfilled those words and introduced a motion to vote on articles of impeachment. The purpose of bringing the articles of impeachment to the House floor is to force fellow colleagues to go on the record for whether or not Democrats (especially) will impeach Trump.
Introducing articles of impeachment is one of many preliminary steps required for any prospective impeachment process.
Even before Rep. Green addressed the House on Wednesday, the answer to that question appeared to be a clear and resounding "no." Democratic leaders — like House Minority Leader Nancy Pelosi (CA) — have long resisted the idea of making any effort to impeach Trump (which would ultimately require a majority of votes in the House, which Democrats do not have anyway).
Green's articles of impeachment did not change Pelosi's position. Both she and the second highest ranking Democrat in the House, Minority Whip Steny Hoyer (MD), told fellow Democrats that they plan to "table" Green's motion to vote, per NPR.
Rep. Green, nonetheless, introduced the articles of impeachment, which included two charges against the president. The first, Article I, is "associating the Presidency with White Nationalism, Neo-Nazism and Hatred." The second, Article II, is "inciting hatred and hostility."
"The framers of the Constitution wanted a means to remove a president who had not committed a crime, but was causing harm to society," Rep. Green wrote in a letter to fellow Congress members, before addressing the House on Wednesday. In fact, impeachment, as prophetically defined by the framers of the Constitution, was designed for a time such as this and a president such as Trump.
Following Green's address on Wednesday morning, Pelosi and Hoyer made their view on the articles public. "Right now, Congressional committees continue to be deeply engaged in investigations into the President's actions both before and after his inauguration," a joint letter from the Democratic leaders read. "The special counsel's investigations is moving forward as well, and those inquiries should be allowed to continue. Now is not the time to consider articles of impeachment."
Why Green Introduced The Articles Of Impeachment
For months, Rep. Green has flirted with the idea of formally bring articles of impeachment forward for a House vote. As far back as May, the Congressman had used the House floor to call for the impeachment of Trump.
"President Trump is not above the law. He has committed an impeachable act and must be charged. To do otherwise would cause some Americans to lose respect for, and obedience to, our societal norms," Green said in a statement at the time.
Green also used the House floor in November to discuss impeaching Trump. At the time, the representative said that he intended to force a vote on articles of impeachment before Christmas. Green intimated that he was seeking a vote as a matter of principle.
"I'm proud to announce that this vote will take place and people will be able to vote to table the articles of impeachment," Green said in November. "They'll be able to vote to reject them or support them, or they'll be able to vote to send them to a committee. Whatever others will do is their choice. My conscience dictates that I will vote to impeach Let others do what they may. History will judge us all."
Ultimately, Green's motion to vote shows no signs of prompting any progress towards the impeachment of President Trump, and instead has drawn the rejection of Democratic leaders.