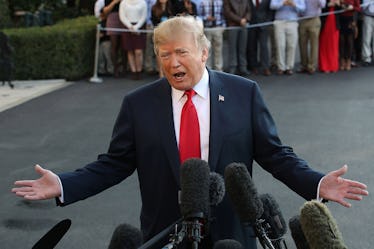 Fox News Doesn't Want Viewers To See This "Impeach Trump" Ad, So Definitely Don't Watch It
Mark Wilson/Getty Images News/Getty Images
On Friday, November 3, during an appearance on cable news, billionaire Democratic donor Tom Steyer said Fox News was refusing to grant a second week of air time for a commercial he funded, which calls for the impeachment of President Donald Trump. The following Monday, Fox News announced that it was permanently pulling the Trump impeachment ad. In a statement provided to multiple media outlets, Fox News co-president Jack Abernethy explained the decision to take down the 60-second TV spot.
"Due to the strong negative reaction to their ad by our viewers, we could not in good conscience take their money," Abernethy said.
Even before Fox New had publicly announced that it was pulling the ad, however, Steyer's legal representative sent a letter to the network to complain about the lack of air time for the commercial after the payment for the air time had already been accepted.
The letter, written by attorney Brad Deutsch read,
We do not take exception to any outlet's principled exercise of editorial discretion. But it is clear that the Cancellation of the Advertisement was not the product of such discretion. Fox News has never taken the position that the Advertisement is untruthful. To the contrary, Fox News willingly carried the Advertisement until October 31, when it was pulled without warning.
The TV spot, called the Need to Impeach, can be viewed in the clip below:
According to Politico, Steyer has spent over $10 million to air the ad on multiple television networks. Meanwhile, the Washington Post reports Steyer spent an additional seven-figure amount to run promote the ad on social media.
Within the ad, the wealthy hedge fund manager calls Trump "mentally unstable and armed with nuclear weapons," while calling for viewers to sign a petition to urge members of Congress to impeach the president.
"A Republican Congress once impeached a president for far less, and today people in Congress and his own administration know that this president is a clear and present danger," Steyer says during the commercial, seemingly referring to the 1998 impeachment of Bill Clinton.
Clinton was ultimately acquitted after his trial before the Senate.
On the website to which Steyer's ad calls attention, a letter from the donor himself is featured. In that particular letter, Steyer writes about Trump,
He is repealing clean air protections and unleashing polluters, even as increasingly catastrophic natural disasters supercharged by our warming planet ravaged the country throughout the summer. He has threatened to reduce aid for millions of American citizens in Puerto Rico who are struggling to survive without drinkable water or electricity — a move that would be a total dereliction of his duty. And every day, Americans are left bracing for a Twitter screed that could set off a nuclear war.
Days before Fox News decided to pull the advertisement from its network, President Trump criticized Steyer via Twitter, calling the billionaire Democrat "wacky and totally unhinged."
In his letter to the network, Steyer's attorney said that Fox News' decision to pull the ad brought their journalistic standards into question.
Deutsch wrote,
It makes you wonder whether they are making the same calculations with decision about news content. Is Fox setting news judgment aside and censoring news stories because they fear a 'strong negative reaction" from their audiences?
At another point, he added,
By censoring viewpoints on matter of national importance, you have failed both your profession and your viewers, who turn to Fox News for "fair and balanced" coverage of current events. Journalists must engage in critical, independent reporting to pose a foil against the abuses of elected officials.
Fox News did not clarify how it measure the negative reaction to Steyer's ad, per CNN.