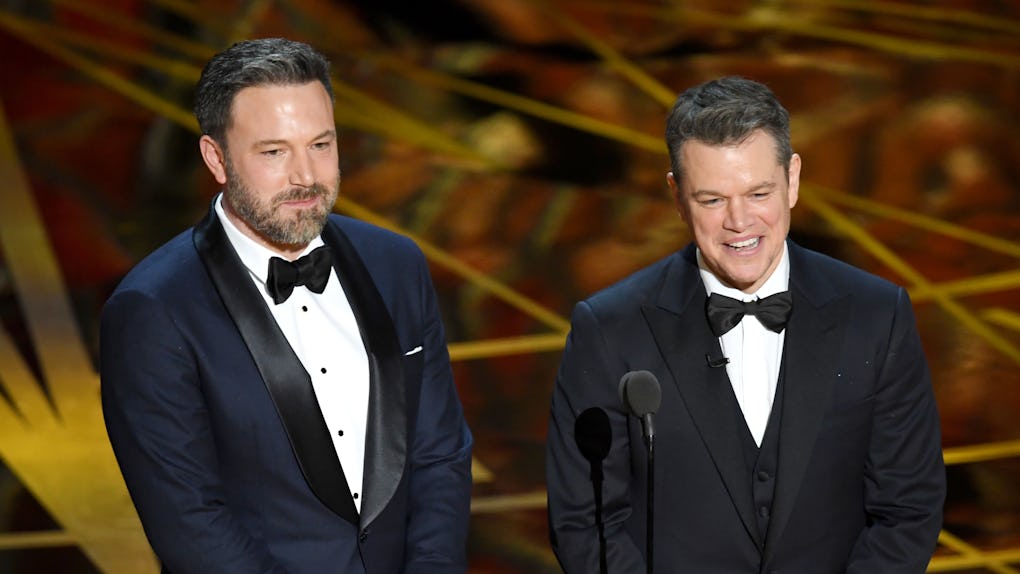 Kevin Winter/Getty Images Entertainment/Getty Images
What Is The McDonald's Monopoly Scam? Matt Damon & Ben Affleck Are Turning It Into A Movie
There aren't many friendships in Hollywood as well-documented as that of Ben Affleck and Matt Damon. The childhood friends shot to fame when their first dual project, Good Will Hunting, reached critical acclaim, and since then, the two men have started their own production company together. They have a new movie in store, but the early premise isn't quite as simple to follow as Damon's janitor genius was in Good Will Hunting. With the men's upcoming film based on a true story involving our favorite board game, what is the McDonald's Monopoly scam?
The past few months have been a busy time for viral, stranger-than-fiction stories that are quickly picked up for movie or TV deals. Shonda Rhimes has claimed faux party princess Anna Delvey's story for her first Netflix project, and two different creative teams are already adapting the details of the Thai cave rescue for films. You might have missed the original news story that has inspired Damon and Affleck's latest endeavor but, hey, it was clearly a busy summer.
In late July, The Daily Beast published the article "How an Ex-Cop Rigged McDonald's Monopoly Game and Stole Millions." The piece followed FBI agents discovering a scam within tbe McDonald's Monopoly competition, which began in 1987 and offered certain game pieces that could earn players cash prizes if they found a full group of properties within the game. In 2001, a Rhode Island man claimed to have won the competition's grand prize of $1 million. The odds of someone winning the ultimate prize were so slim that undercover FBI agents interviewed the man with the suspicion that there was a criminal conspiracy to defraud McDonald's of millions of dollars.
The man's questionable win only fueled Special Agent Richard Dent's ongoing investigation on whether the McDonald's games were rigged by "Uncle Jerry," who reportedly asked customers for money in exchange for stolen game pieces. Uncle Jerry turned out to be Jerome Jacobson, the head of security at the company that produced the pieces for the McDonald's Monopoly game, and his actions reportedly helped himself, mobsters, drug traffickers, and more reach new levels of wealth.
The rest of the article details the FBI tracking down Jacobson and his accomplices. In a crazy twist of fate, the court case investigating the scheme started Sept. 10, 2001, with the next day's events quickly ensuring that many across the country would forget that that there was even a scam of this proportion. Charged with conspiracy to commit mail fraud, Jacobson was sentenced to 37 months in jail. I feel like I'm stealing from McDonald's when my order comes with medium fries instead of the small size I asked for, so it's pretty insane to think about how Jacobson pulled off his scam for so long.
Less than a week after The Daily Beast's tell-all article hit the web, Damon and Affleck optioned the rights to journalist Jeff Maysh's work through their production company Pearl Street Films. Affleck, who previously directed the Oscar-winning film Argo, will reportedly direct the adaptation, while Damon will star in it. Reports haven't specified if Damon will play Jacobson, but you're not a true Hollywood legend if you never play a scammer, right?
Although Damon produced Manchester by the Sea, in which Affleck's brother Casey starred, the McDonald's Monopoly project sounds like it'll be the duo's first major collaboration since Good Will Hunting. The men's company made headlines earlier this year when Affleck and Damon announced in March they would work the inclusion rider agreement into all of their future deals. The news came a week after Frances McDormand used her Oscar acceptance speech to remind Hollywood of the term, which requires at least 50 percent of a project's cast and crew to be diverse. We'll have to keep an eye on this movie to see if that agreement faithfully comes across.
Until we hear more about how Affleck and Damon will portray this scam, I'll be busy trying to convince McDonald's to sneak me some extra chicken nuggets.