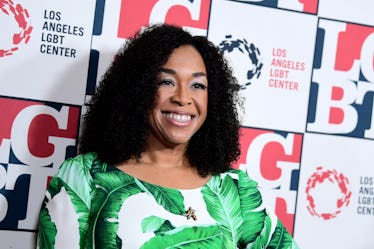 Shonda Rhimes' Netflix Series Will Be Based On This IRL Con Artist Story & I'm So Ready
Emma McIntyre/Getty Images Entertainment/Getty Images
In case you were still doubtful about Netflix's longevity and its status in the TV world, look no further than Shonda Rhimes' deal with the streaming service to take Netflix's credibility seriously. Although her original Shondaland shows will still air on ABC, Rhimes signed a deal in 2017 to bring her production company to Netflix, and her first project isn't anything close to Grey's Anatomy. Shonda Rhimes' Anna Delvery series is coming to Netflix, and I'm already planning to binge this show ASAP.
E! News reports that Rhimes will write the Netflix series based on Jessica Pressler's recent New York Magazine article, "How Anna Delvey Tricked New York's Party People." If you follow anyone with literary leanings on Twitter, you may have spotted the seriously immersive piece on your feed in the last few weeks. It told the true story of Delvey, who posed as a German heiress to con New York City's wealthy elite and fund her expensive taste. As of 2018, 27-year-old Delvey is being held without bond at Rikers Island after being indicted on six counts of grand larceny and attempted grand larceny.
According to PEOPLE, Delvey, whose real name is Anna Sorokin, will have a trial in court later this year. She spoke to New York Magazine about her new life at Rikers Island, saying:
This place is not that bad at all actually. People seem to think it's horrible, but I see it as like, this sociological experiment. There are couple of girls who are here for financial crimes as well. This one girl, she's been stealing other people's identities. I didn't realize it was so easy.
A complex female pulling off an elaborately bizarre crime? Sounds right up Rhimes' alley. While Rhimes has yet to comment about the project on her own social media, the Shondaland Twitter account confirmed the news in a short and sweet message.
Although a fictional Delvey could certainly use the crisis management skills of Scandal's Olivia Pope, Rhimes' previous creations will likely stay separate from her future Netflix work. At the Television Critics Association press tour in January, Rhimes reassured the public that her deal with Netflix wouldn't harm the status of her ABC shows, but the two entities don't seem to have any crossovers in store. Rhimes said:
I think there's a misconception. We're already at Netflix and we're on ABC. Our deal with Netflix already began. It's not like we're going to pack our bags and take some boxes and march some place else at a set time. We're here. We have five shows at ABC. We're developing another. We're really happy where we are…It's not as if we're going anywhere.
Although plenty of Shondaland fans were initially skeptical about the mogul's move, they seem to have since accepted her fate. Many took to Twitter to share their excitement about the Anna Delvey series, while others remain a tad unsure. Don't knock it till you've tried it, folks!
Although Rhimes snagged the rights to Pressler's article, there's also a possibility of another noteworthy Delvey-centric piece being adapted for TV or film. Producers are reportedly also considering Rachel DeLoache Williams's Vanity Fair article about the scandal for a project. Variety reports that Delvey has even been in contact with producers about who will play her. I'll never be interesting enough for someone to make a movie about my life, but I do envy the people who get to seriously debate about who their onscreen counterpart will be.
Delvey's story is so crazy that I honestly can't wait to see how Rhimes incorporates the benefits of a streaming platform into her work. It's been quite some time since Rhimes received some Emmys love, but maybe Netflix's Anna Delvey series will call for her return as an award seasons contender. Fingers crossed!