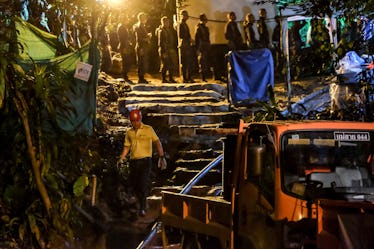 A Thai Cave Rescue Movie Is Officially In The Works & It's Going To Be So Powerful
Linh Pham/Getty Images News/Getty Images
In the midst of a turbulent news cycle, the initially bleak saga of 12 boys and their soccer coach trapped in a Thai cave for more than two weeks turned joyful and optimistic when divers eventually rescued the entire group over the course of three days. As with any story that captures the world's interest, Hollywood filmmakers have already set their eyes on movie adaptations of the intense, ultimately heartwarming rescue tale. A Thai cave rescue movie is officially in the works, and I'm already shaking at the thought of how powerful it will be.
There are actually plans to make two movies based on the rescue. The first announced intention came from Pure Flix Entertainment, which produced the God's Not Dead films and plans to turn the story into an "inspirational" movie rather than a Christian story. CEO and co-founder of Pure Flix Michael Scott (not the one you're probably thinking of) has told The Hollywood Reporter that the bravery and heroism displayed throughout the rescue inspired him. When former Sgt. Saman Kunan died during the mission in his efforts to rescue the boys, Scott and his family became personally invested, as Kunan was friends with his wife. Scott told THR:
This isn't just about a movie, it's about honoring everybody involved, including the soldier who died. This was truly a team effort involving Brits, Aussies, Americans and Thais, and the divers told us incredible stories.
However, in response to the news of a movie with this angle, Crazy Rich Asians director Jon M. Chu stepped up with his own plans to adapt the story for the big screen. Chu fears that Hollywood could easily whitewash the cave rescue for a film, and he took to Twitter warning other movie projects about putting dramatics over the truth in an adaptation.
Variety originally reported Chu's plans to make a movie about the cave rescue, announcing that he would partner with Ivanhoe Pictures for the project. He also worked with the company for the upcoming Crazy Rich Asians, which has Hollywood's first all-Asian cast in 25 years. Chu shared the Variety article on Twitter, writing that "we must tell our stories...so history doesn't get it wrong." He cited the experience of working on Crazy Rich Asians as his turning point in taking responsibility for sharing Asian stories that wouldn't be told or altered significantly otherwise.
Chu also recognized that it took his entire life to realize that if Asian filmmakers speak out, truthful stories about their experiences will reach widespread platforms.
Chu's comments have attracted plenty of fans' support on Twitter. Those who specifically identify with Chu's perspective seem particularly excited for his new stance against old Hollywood habits.
As of July 12, all 12 boys, their coach, and the four Navy SEALS who rescued them are recovering in Thailand's Chiang Rai Prachanukroh Hospital. NBC News reports that a video clip of the boys in their quarantined ward shows them flashing victory signs at the camera. Hospital director Chaiwetch Thanapaisal says that the boys will stay hospitalized for up to 10 days. Parents of the first eight boys rescued were allowed to visit their sons, but they had to wear protective suits and stand seven feet away in case the boys had picked up infections while in the cave.
There might already be some controversy surrounding the film adaptation of this story, but if there's anything that both movies will likely capture, it's a rescue crew's emotional drive to bring this trapped soccer team home. Chu, who has directed several Step Up films, is reportedly also set to direct the movie adaptation of In the Heights, the first Broadway musical for which Hamilton scribe Lin-Manuel Miranda wrote the music and lyrics. Chu's Crazy Rich Asians is in theaters on Aug. 18.