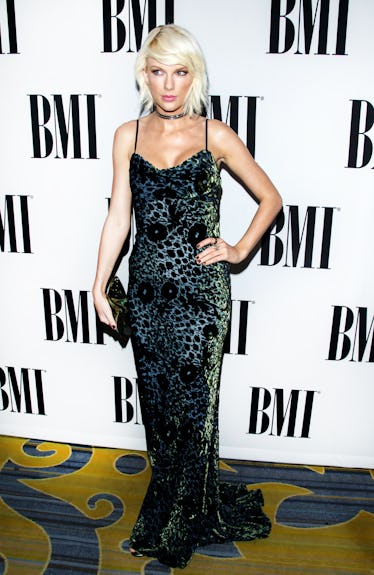 Taylor Swift Is Holding A 'Reputation' Contest For Fans & The Prize Is Unreal
Mark Davis/Getty Images Entertainment/Getty Images
Honestly, the release of Taylor Swift's Reputation album is the most exciting thing to happen to me all year. It's so much more than an album release at this point. Swifty has been extra in truly the best way ever. Instead of dropping any ol' album on any ol' day, Swift has calculated every release, music video drop, and stunts that happened in-between. If you're looking to get in even deeper with Reputation, there's a contest that has some amazing prizes up for grabs. How can you win a Taylor Swift Delivery? Don't worry, there's still time to enter.
Depending on the city you live in, you may have seen UPS trucks driving around with Swifty's face on them. I know I have seen them EVERYWHERE. This is more than Swift's reminder that she's always watching, it's actually a pretty insane contest. There are two ways to enter: by pre-ordering Reputation through UPS for $14.99 that includes exclusive photos (come on, you were going to do it anyway) or mailing in an entry. The mail-in method is actually no purchase necessary if you still want to get in on the fun, but don't want the physical CD.
Swift has even been teasing the contest on her personal Instagram so you know it's huge. On Nov. 7, she took to Insta with a picture of one of the UPS trucks that has her face on it. The caption simply says "Friday. #reputation" and I CAN'T BELIEVE THE RELEASE DATE IS SO CLOSE.
If T. Swift herself is promoting the contest, it must be huge. According to the UPS website, the grand prize includes:
Four tickets to one of Taylor Swift's first shows
Roundtrip airfare
Two-night hotel stay
Dinner for four
Access to your own glam squad
Signed memorabilia from her new music video
Four copies of Taylor Swift's new album, reputation
Plus a Taylor Swift prize pack
OKURRRR. That's amazing. Knowing Swift, I'm sure she will somehow meet the contest winners and make everyone feel special AF.
The first prize isn't too shabby either. The website explains that five lucky first prize winners "will receive a prize box filled with two concert tickets plus signed memorabilia from Taylor Swift's new music video and more." I'LL TAKE IT.
The grand prize and first prize just say the tickets will be for "one of Taylor Swift's first shows." Does this mean she has a tour already up her sleeve? MAYBE. Swift has done such an amazing job with every aspect of Reputation, it wouldn't be surprising if she had a full tour set up.
Don't worry, there are more prizes. Second prize includes, "Limited-edition items you can't get anywhere else." Swanky. According to the rules, there will be 226 winners in total (one grand prize, five first prize, and 220 second prize). Honestly, someone has to win so why the hell can't it be you?
Even if you don't take home the grand prize, Reputation is going to be amazing. Somehow, Swift has been able to keep the whole thing under wraps. She's even hosted a few intimate listening parties for fans from all over the world, and still nothing has leaked.
Swift literally stalked fans on social media and handpicked people to attend a party in London on Oct. 13 and at her Los Angeles home on Oct. 22.
The singer is no stranger to holding intimate listening parties ahead of the release of new music. She had a similar gathering in 2014 when she was getting ready to release her album 1989.
Let me just say, Swift definitely knows how to throw a listening party. Besides knowing literally everyone's name, there was swag and tons of fun extras for party goers. Fans absolutely raved about the album, Swift, and the entire experience.
NOV. 10 CANNOT COME SOON ENOUGH. Also, if you win the UPS grand prize, DM me if you need a third friend. I'll bring snacks. Please?
Check out the entire Gen Why series and other videos on Facebook and the Bustle app across Apple TV, Roku, and Amazon Fire TV.