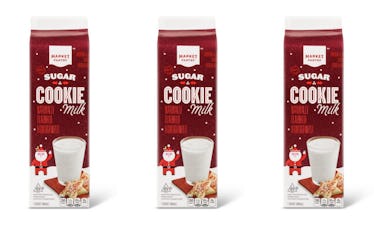 This Sugar Cookie Milk From Target Is A Festive AF Sip For The Holiday Season
Just days after Target's new Hot Cocoa M&Ms promised our taste buds the merriest Christmas ever, everyone's favorite superstore has done it again. Your fond childhood memories of setting out sugar cookies for Santa Claus have been bottled into a red quart of festive milk, which appears to be a new addition for the holiday 2018 season. If you're wondering what is Target's Sugar Cookie Milk and when can you get your hands on the Santa-approved sips, prepare to live your best life with a sugar coma-inducing accompaniment to your Sugar Cookie Toast Crunch Cereal, the tastiest companion for your holiday cookie spread, or even just a solo glass of pure, sugary goodness that'll quench your thirst and your sugar cravings all in one gulp. Who knew I'd be this excited for a cup of milk this holiday season?
Instagram user @CandyHunting first set the internet ablaze with a post that revealed that the scientists behind Target's Market Pantry line are currently rolling out jugs of milk infused with festive flavors that are pretty much guaranteed to make you feel like a kid again.
"Want all your cereal to taste like sugar cookies?" the blogger captioned the image. "Target has sugar cookie milk out now for the winter!"
Here it is in its gloriously festive packaging, which includes an illustration of a smiling Santa about to dig into a glass of milk and sugar cookies. While it's unclear whether or not the sips in fact taste like sugar cookies, the nostalgia factor is giving me all the feels right now. In general, the verdict seems to be that the flavored milk is basically Christmas in a cup, and you should definitely try it ASAP because it's only available "while supplies last," according to a Target rep.
One Twitter user raved, "I got this flavored milk 'sugar cookie milk' @ target I mixed it in my latte so I'm having a sugar cookie flavored latte my tongue is dancing. I haven't ever had a better coffee..its the little things that are nice and make up for poor decisions jk lol," while Instagram user @PlainChicken said that tasting the concoction put her in the very best of spirits. "If you need me I'll be bouncing off the walls, singing Christmas carols loud for all to hear like Buddy the Elf," she wrote. Um, count me in to this holiday magic!
Considering that Target's Sugar Cookie Milk is following in the footsteps of the return of General Mills' Sugar Cookie Toast Crunch cereal, people have inevitably been trying the pairing together. Because who doesn't want dessert for breakfast? Well, according to Instagram user @PhatPhood, it's love at first crunch, and it's basically game over for all your breakfast cravings.
"This past weekend I got to have 'cereal time!!' with the best limited edition cereal to hit the shelves, ever...with the best milk I've had to date," the blogger wrote. "Was it sugar cookie overload? Nah, it was pure bowl to face satisfaction."
TBH, I'm salivating at this point thinking of starting my morning with a big bowl of Sugar Cookie Toast Crunch cereal and milk that keeps that sweet flavor coming long after the crunch is gone. According to Target's website, the Sugar Cookie Milk is only $2.49 (as are a few other new flavors like Chocolate Mint Milk and Maple Pecan Milk), so there's no reason not to head to your nearest location and pick up a quart or two of these bad boys so you can taste the spirit of Christmas in every sip. What a time to be alive.