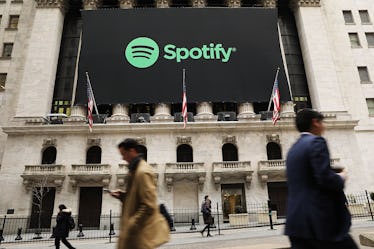 Spotify Is Testing A "Lite" App That Will Save On Data & Here's Who Can Try It Out
Spencer Platt/Getty Images News/Getty Images
Spotify is one of my most-used apps, and my monthly data-usage stats definitely reflect my affinity for the music streaming app. While I might cringe at the possibility of going over my data plan, I can't help but find Spotify extremely useful for all of my music needs. In a bit of hopeful news, it turns out that Spotify might actually be testing a way to let users stream music without using all of their data. So, what is Spotify Lite?
You can tell from its name that Spotify Lite is an app that is meant to play your favorite music while taking up much less space on your phone, according to Android Police. In fact, it's reported that Spotify Lite requires only 15 MB to download, as compared the 100 MB needed for the main Spotify app. Sounds like a great data saver, right?
Well, it is great if you're one of the Android users in Brazil who has the beta-version of the Spotify Lite app. Spotify is only testing the Spotify Lite app in Brazil right now, and the 4,000 downloads of the app reported by Sensor Tower seem to confirm that this is only a test phase, per Tech Crunch.
In an emailed statement to Elite Daily about the Spotify Lite, Spotify says,
At Spotify, we routinely conduct a number of tests in an effort to improve our user experience. Some of these tests end up paving the path for our broader user experience and others serve only as an important learning. We aren't going to comment on specific tests at this time.
OK, Spotify won't spill the details about Spotify Lite, but Android Police reported on some of the features in the test app.
First off, the look of Spotify Lite is very similar to what you're used to seeing in the main app, but you'll quickly notice a difference in functionality. Sadly, there is no option for offline music playback. The absence of this data-saving feature is a head-scratcher, because offline playback is meant for using less data while in the app. Seeing as though the entire purpose of Spotify Lite is to save space on your phone, you'd think that offline playback would have made the cut. To that end though, Spotify Lite does give you the option to set your own data limits in the app.
Other noticeably absent features in Spotify Lite include the ability to choose a specific song — even if you're a Premium subscriber — and the use of Spotify Connect, which lets you stream Spotify songs from a wireless audio device (like your trusty Bluetooth speaker). So, you're only left with the ability to listen to songs from a Spotify playlist straight from your phone, with no option to choose your favorite jam.
Now, it might seem like Spotify Lite sacrifices a lot in order to save data, but it also means that Spotify Lite works more efficiently on older smartphones and still works in bad network conditions. Also, Tech Crunch points out that Spotify Lite is still in the beta version of testing, so it's possible that some of those user-favorite features — like offline playback — might show up in a final version of the app.
If a pared down version of the Spotify app sounds like exactly what your short-on-data smartphone needs, you might have to wait awhile to reap the Spotify Lite benefits. If Spotify Lite follows the fingerprint of other apps testing "lite" versions, then the release will likely only be for Android phones. Facebook released Facebook Lite as an Android-only app in March 2018, and Uber Lite was released for Android users in India in June 2018.
Both Facebook Lite and Uber Lite are meant to work efficiently on older smartphones and in areas of the world with network connectivity issues. There are no reports about where else Spotify might test Spotify Lite before an official release, but Android users should be ready to take advantage of the data-saving app when Spotify, hopefully, makes an official announcement of Spotify Lite's release.