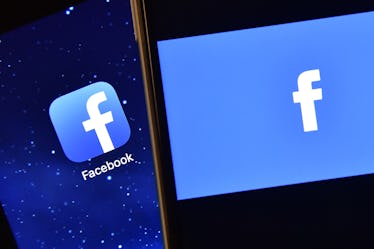 This New Facebook App Is Perfect For People With Slow Internet Connection
Carl Court/Getty Images News/Getty Images
In addition to facing the harsh reality of seeing what's actually in my bank account (yikes), I feel like it's physically taxing to look at my phone's data usage history. As a self-proclaimed smart phone addict, not running out of data every month is, um... kind of hard for me. And although Instagram and Snapchat are both major data eaters, Facebook often tends to burn through a substantial amount of my monthly data. If your history looks anything like mine, you might be wondering what Facebook Lite is, and how it might help save your phone's data.
Facebook Lite is a "lighter" version of the Facebook app, according to The Verge. Whether your internet connection is kind of slow, or if you just tend to use way too much data in general (like myself), it could be perfect for any and all of your wants and needs. Apparently, it only takes up 252 kilobytes, and it's based on the version that runs on feature phones. According to Mashable, Facebook Lite was made for Android phones. So if you're someone who couldn't update to an iPhone (or simply chose not to), you're in luck.
Although it's described as "simplified" or "stripped down" version of the app, Facebook Lite can still access the Newsfeed, send push notifications, and even use camera integration... you just won't be able to access things like Marketplace or Facebook Watch. According to Reuters, Facebook Lite became available to the U.S., Canada, Australia, the UK, France, Germany, Ireland, and New Zealand on Thursday, March 15 — so that's pretty damn exciting, if you ask me.
Although it was just brought to a handful of new countries, Facebook Lite was actually first created back in 2015, according to The Verge. Initially, it was designed to run on 2G networks on outdated Android handsets, and for those with slower internet or data connections. This is why it was originally tested in Bangladesh, Nepal, Nigeria, South Africa, Sudan, Sri Lanka, Vietnam, and Zimbabwe. Now, it's available in over 100 countries, so you can do that good old Facebook stalking from pretty much anywhere around the world.
A Facebook spokesperson reportedly said that the company created Facebook Lite in order to help people access the app, no matter their location or how strong their data and internet connections are. According to Mashable, they made the statement below:
To help everyone have a great Facebook experience regardless of where they connect or the bandwidth they have, in many countries we rolled out Facebook Lite as a standalone, native app with features such as News Feed, status updates, push notifications, and camera/photo integration.
In 2016, the Facebook created a "lite" version of its messenger app as well, which they called "Messenger Lite." Similar to the new Facebook Lite, it ensures that those with older Androids — as well as slower connections — can still use Facebook Messenger. Messenger Lite has most of the same features as Facebook Messenger, allowing users to share messages, photos, links and stickers. The app is actually under 10 MB, through, and uses far less data. Plus, it works well for those with slower internet speeds. If you're trying to budget your data usage a little better (holla), then Messenger Lite is probably not a terrible option for you.
So if you happen to repeatedly eat through your monthly data like I do, or if you suffer from internet connection issues, why not get the "lite" versions of both apps? They seem super easy to use, they take up less room on your phone, and the best part is that you might not receive that dreaded "data usage warning" text next month.