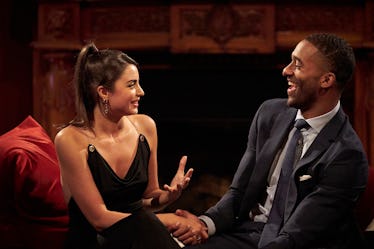 Here's What Rachael Is Up To When She's Not On 'The Bachelor'
ABC/Craig Sjodin
Getting to know the contestants on-screen is one of the best parts of a new season of The Bachelor. As Season 25 continues to unfold, viewers are eager to learn more about the frontrunners. So, here's everything you need to know about The Bachelor's Rachael Kirkconnell, including her job and her plans for the future.
The 24-year-old graphic designer is from Cumming, Georgia, and graduated from Georgia College & State University in 2019, where she was a member of the Alpha Delta Pi sorority. According to her ABC bio, her favorite way to pass the time is by doodling, so it definitely seems like she's in the right profession. In addition to her work, she's very neat with organization and cleanliness and hates slow drivers, so she's all about moving forward and chasing her dreams.
Heading into Season 25, Rachael had something big in common with Matt, in addition to her strong work ethic. It turns out, neither of them have been in love. She told ABC, however, "Matt may just be the guy to change that."
Since she describes herself as a "hopeless romantic to her core," it seemed from the start that she was looking for the real deal. And as soon as she met Matt, the sparks flew between the couple. As the weeks unfold, she continues to impress the Bachelor. During Week 5, the pair when on a supremely glam 1-on-1 shopping date. Despite never having owned a pair of shoes that "cost more than $40," Rachael walked away from the evening with a pair of Louboutins and another rose from Matt.
As Matt's journey to find love continues to intensify, only time will tell whether the pair will fall in love for the first time with each other. While anything can happen on The Bachelor, things are looking promising for this early connection. Here's hoping Rachael and Matt both find what they're looking for, whether it's with each other or not.
Season 25 of The Bachelor airs on Mondays at 8 p.m. ET on ABC.