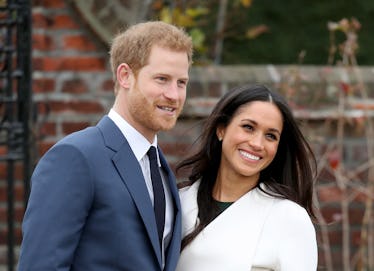 Prince Harry's Official Title Is Even More Confusing Than Princess Mia Thermopolis'
Chris Jackson/Getty Images Entertainment/Getty Images
With all this exciting royal engagement news, has anybody actually stopped to wonder what Meghan Markle is going to become known as after she marries Prince Harry? Like, does the wedding make her a princess, or a duchess like Kate Middleton, and also what even is Harry's last name? He's been Prince Harry to everyone for so long it's hard to know. And will Markle take his name? It's all very confusing, but don't worry — I've got all the answers to all your Prince Harry and Meghan Markle name and title questions right here.
When it comes to titles, Harry actually shares the same royal title as his brother and father: Prince of Wales. Harry's father Prince Charles and his older brother Prince William also have this title, although they both also have dukedoms — Prince Charles is also the Duke of Cornwall and Rothesay, and Prince William became the Duke of Cambridge after marrying Kate Middleton in 2011. Since these secondary titles are traditionally given upon marriage, Prince Harry will very likely be receiving a dukedom of his own during his wedding to Meghan Markle, and Markle will receive a duchess title.
Since traditionally, these titles are given by the queen on the day of marriage, we still do not know specifically what Prince Harry and Meghan Markle's new royal titles will be, but most people familiar with the royal family already have a pretty good idea. Harry and Meghan will likely be awarded the titles of Duke and Duchess of Sussex, a royal position that has remained vacant for over 150 years. Harry will retain and continue to be predominantly known by his Prince of Wales title, but Meghan Markle will actually not become a princess nominally. Like Kate Middleton before her, Markle will most likely become known as Meghan, Duchess of Sussex, not actually gaining the title Princess of Wales. That title is actually given to the wife of the Prince of Wales who is heir apparent to the throne, and currently belongs to Prince Charles' wife Duchess Camilla. Although, Camilla actually chooses not to use the Princess of Wales title out of respect for how strongly the title is related to the late Princess Diana.
Okay, so does that clarify all of this royal titles stuff for you? Basically, Meghan Markle will most likely become the Duchess of Sussex but not actually gain the title of Princess of Wales, in a similar fashion to how Kate Middleton became Duchess of Cambridge. Now that the titles thing is all cleared up, let's talk about that last name. Prince Harry's full name is actually Henry Charles Albert David Windsor. Yeah, it's a lot. When Kate Middleton married Prince William, she took his last name of Windsor, so it's expected that Meghan Markle will become Meghan Windsor as well.
All of these confusing name and title changes will take place during the royal wedding, which the royal family announced on Monday morning will take place in the spring of 2018. Prince Harry is currently fifth in the line of succession for the British throne, following his father Prince Charles, his brother Prince William, and his nephew and niece Prince George and Princess Charlotte. Upon marriage, Meghan Markle will also assume the responsibility of possibly becoming a queen consort, though given Harry's lower spot in the line of succession and the youth of the heirs ahead of him, it's very unlikely that he will take the throne.
The engagement between Prince Harry and Meghan Markle was announced on Monday morning by Clarence House, the official residence of Harry's father Prince Charles. Read the statement below:
The wedding will occur next spring, and Markle will move into Kensington Palace with Prince Harry after wed to him.