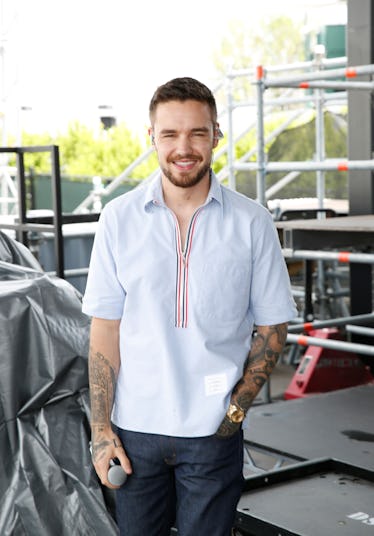 Liam Payne's Net Worth Proves He's Gonna Be More Than OK After His Breakup
Jeff Schear/Getty Images Entertainment/Getty Images
After two years together and the birth of their son, One Direction alum Liam Payne and his girlfriend Cheryl Cole have called it quits. Payne made the announcement through Twitter on July 1, and said it was a "tough decision" but while all of us try to figure out what went wrong, you might be wondering what is Liam Payne's net worth? Don't worry, he'll be just fine.
I'm not saying that piles of cash can mend a broken heart, but according to Celebrity Net Worth, Payne is worth $60 million, and that much dough might very well be able to soften the blow of a hard breakup.
But don't worry, cash or no cash, it seems like the couple is doing just fine. Payne and now ex-girlfriend Cole both took to Twitter with identical messages on July 1 to shake the world with news that they've decided to split. Both tweets said they were sad to announce the split and asked that fans respect their son Bear's privacy. They wrote,
Cheryl and I are sad to announce that we are going our separate ways. It's been a tough decision for us to make. We still have so much love for each other as a family. Bear is our world and we ask that you respect his privacy as we navigate our way through this together.
It's the end of an era, really. Payne and Cole met back in 2008 when Payne first auditioned for the X Factor and Cole was a judge. Although Payne didn't make it through as a solo artists, he was paired with Harry Styles, Niall Horan, Louis Tomlinson and Zayn Malik forming the super mega hit boyband One Direction.
Almost a year after Bear's birth back in March, there were rumors that the couple was facing a rough patch. Payne, however, quickly squashed that rumor mill and basically told ES Magazine, that people are always speculating about something or other when it comes to their relationship. Payne confirmed that he and Cheryl are happy where they are and there are things that happen in a relationship and that the two have their "struggles" but that's what a relationship is. He said,
The funniest thing was a week before we were getting married. The next week we're splitting up. And the thing for me is, I just like to think we're somewhere in the middle. You know, we have our struggles — like of course I'm not gonna sit here and say that everything's absolutely fine and dandy, because of course you go through different things, and that's what a relationship is, but we go through them together as a family and that's the most important thing for me.
Cole also adressed rumours swirling on Twitter that she anf Payne were just putting on a show and actually on the outs. She wrote in a Feb 22 tweet,
Oh stop no one cares who's been speculatively arguing or not in their relationships use your platform to put something productive in your columns I opened a centre this week that could help thousands of youth!!!!
Cole is totally right. Us commoners are probably all guilty of speculating about the lives of the rich and famous. I think that because they have everything in the world (like 60 million bucks), fans expect their relationships to be perfect and when one little thing seems awry, Twitter goes full stan trying to crack the code. But sometimes, celebs are just like us. They also have relationship woes and personal issues to work out. At least it looks like Payne and Cole are on the same page with this split, and who knows — maybe we'll even get a new Liam Payne original out of it?