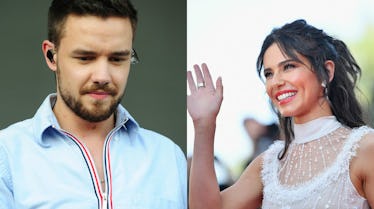 Liam Payne & Cheryl Cole Have Officially Split & What Is Love Anymore
Timothy Hiatt/Getty Images Entertainment/Getty Images & Emma McIntyre/Getty Images Entertainment/Getty Images
I have to say, 2018 might be the most dramatic year of celebrity breakups yet. Well everyone, Liam Payne and Cheryl Cole have broken up after two years, and I'm seriously devastated. Another one bites the dust.
On July 1, both Payne and Cole took to Twitter to share with the public that they've decided to call it quits. In their tweets, the ex-couple both wrote the exact same message announcing their decision as well as asking the public to respect their privacy as they sort things out between the two of them, especially in regards to their son Bear.
Payne wrote,
Cheryl and I are sad to announce that we are going our separate ways. It's been a tough decision for us to make. We still have so much love for each other as a family. Bear is our world and we ask that you respect his privacy as we navigate our way through this together.
Although these two were known to be one of the most low-key celebrity couples, Payne and Cole have quite the fairytale love story. The two crossed paths on the X Factor U.K. set in 2008 while Cole was a judge and Payne was a contestant. In November 2016, People confirmed that the pair were expecting their first child together. Cole eventually announced her pregnancy in February 2017, and on March 22 the couple welcomed their son, Bear, into the world.
All good things must come to an end I suppose, but it's nice to see that these two are handling it like real adults.
Despite being together for more than two years, the couple never gushed about their relationship to news outlets often. However, as of May 2017, Payne told The Sun that he didn't see marriage in the cards for his future. Honesty is the best policy, after all.
It feels like these breakup announcements are an everyday thing now in the whirlwind that is 2018. We've seem the demise of relationships including Jennifer Aniston and Justin Theroux, Mac Miller and Ariana Grande, Channing Tatum and Jenna Dewan, and sadly so many others.
I personally couldn't imagine navigating a relationship in such a public spotlight, and Payne himself has even discussed the pressures of being in a celebrity relationship, especially when it comes to daily rumors. While speaking to ES Magazine in March, Payne addressed rumors that he and Cole were putting on a "loved up" act for the cameras.
"The funniest thing was a week before we were getting married. The next week we're splitting up," Payne joked.
Cole also addressed the rumors via Twitter, and ultimately shut down talks that she and Payne were putting on a show.
She wrote,
Oh stop no one cares who's been speculatively arguing or not in their relationships use your platform to put something productive in your columns I opened a centre this week that could help thousands of youth!!!!
Word, Cheryl. Even though we might all be devastated about the news, I hope that Payne and Cole's wishes are respected and everyone gives them a little privacy. Breakups are never easy, and I'm sure they're especially hard when a child is involved.
Another day, another moment where I question whether love actually exists or is a figment of the imagination. Payne and Cole splitting up is super upsetting, but I guess I can enjoy watching Pete Davidson and Ariana Grande's roller coaster romance unfold before my very eyes in the meantime. I never thought I could develop such an obsession over a couple within a few weeks timespan, but here we are.
Cole and Payne's romance might be done, but I have no doubt that they'll still be friends for life.