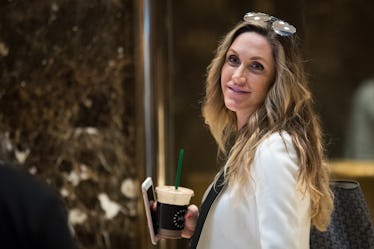 Lara Trump's Impressive Resume Means She Fits Right In With The Trump Family
Drew Angerer/Getty Images News/Getty Images
We've always known the Trumps to be savvy (and wealthy) business people, but now that they've ventured off into different career fields like, say, politics, I'm even more curious to know where they stand financially. Of course, President Donald Trump is worth zillions of dollars, and I'm sure his kids are around the same. But when it comes to extended members of the family, it's not always so clear. Let's take Lara Trump for example: She's been spotted at major political events alongside her husband Eric Trump or sister-in-law Ivanka Trump (who both have vital roles as they relate to their father's various lines of work). But personally, Trump keeps a low profile. So, what is Lara Trump's net worth? Let's talk about it.
There's no definitive number for what Trump's net worth is, but given her impressive resume, I'm betting she has some shmoney: Trump made a name for herself working as a television news producer for Inside Edition, a job she'd started in 2012, according to Fortune. And it doesn't make chump change — the average salary for that role is $102,011, according to career website Paysa. But she reportedly left the position in 2016 to accompany Trump on his campaign trail, rallying alongside the president in states like North Carolina. After the election, in March 2017, it was announced that Trump would serve as a political consultant for Giles-Parscale, a vendor that was behind President Trump's 2016 campaign and is gearing up for his 2020 reelection bid.
Back in February, she told Fox News that she joined the campaign because of her belief in the president. She said,
Well, listen, I grew up in North Carolina in a middle class family, and I said it throughout the campaign, I would never have gotten out there and put myself on the line if I did not truly believe in Donald Trump as a great leader and the right man for the job. I'm so proud to be a part of this family and the support that I feel like we all give one another, it doesn't make it easy, but it makes it worth fighting for. I'm here to fight for this country, because I believe in what the President is doing.
Her husband, Eric, backed her claims. He told The Telegraph in late 2017, "Lara truly believes in my father's message and is passionate about fighting for the American people. She is authentic and is truly one of the hardest working people I know."
That means she's gotta have something to show for it, right?
Her husband, though, is worth plenty.
We can make some guesses about her net worth, thanks to her husband, who's reportedly worth $300 million dollars. Currently, he runs the Trump Organization alongside his brother, Donald Jr., and has worked closely with Trump National Golf Clubs and Trump hotels around the world, which obviously paid off.
BTW, speaking of her hubby, he and Trump dated for six years before they tied the knot in 2014 at the president's Mar-a-Lago Club in Palm Beach, Florida, the New York Daily News reported. In a 2016 interview with Fox & Friends, Trump revealed that they'd met in a chance encounter while out with friends in 2008.
We met here in New York. Actually, we were both out one night with friends and being, probably, the two tallest people in the room was really helpful. I think we spotted each other across the room. I was immediately intrigued, and hopefully Eric felt the same way.
Fast forward ten years later and the couple shares one son together and an adorable beagle named Charlie. That said, even if she didn't have a large net worth, her personal life seems like a real dream.
While Trump's net worth remains unknown, her spirited ambition has probably allowed her to accumulate some sort of grand worth. And I'm sure the business savvy of her family members has rubbed off on her, too. After all, we're talking about the Trumps here.