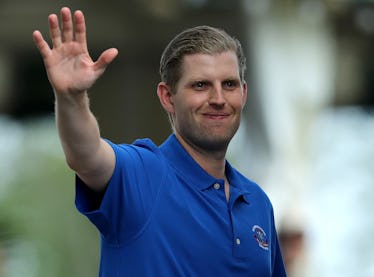 Eric Trump's Net Worth Will Have You Second-Guessing Your Career Path
Elsa/Getty Images Sport/Getty Images
We all know that President Donald Trump is rich AF, and we can assume that his most well-known children like Ivanka or Donald Jr. are rolling in the dough, too. But when it comes to his other kids who are more low-key, such as Eric Trump, it's hard to tell where they fall financially in comparison to the rest of the family. Well, let me be the first to tell you: Eric Trump's net worth is unreal.
Trump, who is the youngest child of his father and his first wife Ivana, is reportedly worth a whopping $300 million, according to Town & Country. He currently works as an executive vice president and trustee at the Trump Organization alongside his brother Donald Jr., where he manages project acquisition, development and construction in various parts of the world. But aside from that, Eric Trump's always had a pretty impressive resume that contributed to his massive net worth: Trump has overseen major business acquisitions, including Trump International Ireland. He's worked closely with Trump National Golf Clubs and Trump hotels around the world. The Trump Organization's website adds that Trump was once listed on Forbes' "30 under 30" in real estate list in 2012, and also appeared on his father's hit show Celebrity Apprentice the same year.
Wait, am I... impressed?
He kind of dabbles in politics, too.
In April 2017, Trump told Fortune that he doesn't discuss business matters with his dad, as they relate to the family's organization, but that doesn't stop him from stepping into his dad's shoes from time to time. Back in January, Trump filled in for his father at a fundraiser in Florida while the president was busy with the government shutdown. While he was there, he did an interview with Fox News host and former judge Jeanine Pirro regarding the shutdown, but his comments drew heavy criticism. He said,
Honestly, I think it's a good thing for us, Judge, because people see through it. The only reason [Democrats] want to shut down government is to distract and to stop his momentum. My father has had incredible momentum. He's gotten more done in one year than arguably any president in history. How do [Democrats] divert from that message? ... They obstruct, they distract, they try to place blame.
People were obviously pissed that Trump was portraying a government shutdown, which would cause many governmental services to stop operating and government employees to be furloughed without pay, as a good thing.
However, his dad took to his Twitter to cheer him on.
There was also the time when Trump visited Fox & Friends to defend his father in light of mounting accusations of racism. The interview came just a week after the president reportedly called Haiti and a few African nations "sh*thole countries." Though the commander-in-chief denied that he'd ever said such a thing, others maintained that he did, indeed, use such a racist insult.
When discussing the accusations with the hosts, Trump told them that his father couldn't be racist because he only "sees one color: green," Newsweek reported.
"That's all he cares about. He cares about the economy. Right, he does not see race," Trump said. "He's the least racist person I have ever met in my entire life. It is total nonsense."
But of course, those comments also backfired.
Soooo... he only cares about money? That's not exactly a good look, either. Twitter users immediately called out Trump for saying his father only sees green.
With such a hefty net worth, I bet Trump only sees green, too. Now imagine how the world would be if all of us had that kind of cash.