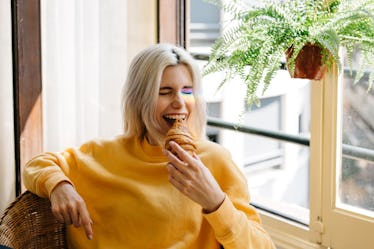 The 5 Key Things Experts Want You To Know About Intermittent Fasting Before You Try It
I personally have zero interest in going any significant length of time without eating. My snack cupboard is usually very well-stocked, and I honestly don't know what I would do if I couldn't reach for an afternoon pick-me-up whenever I needed some extra energy. So once I heard that intermittent fasting is a thing in the world of wellness, I knew I had to investigate. After all, any sort of eating plan with the word "fasting" in it sounds a bit restrictive, at least at first glance, so what is this trend really all about?
In case you're not quite up to speed either, Kristin Koskinen, RDN, LD, CD, a registered dietitian/nutritionist based in Washington, says intermittent fasting is basically just a strategy in which you're cycling eating with fasting — which, if you think about it, is something you already do naturally a lot of the time, regardless of any diets you are or aren't exploring. After all, the seven or so hours that you sleep each night technically counts as a "fast," and according to Healthline, "intermittent fasting can be as simple as extending that fast a little longer." So, for example, maybe your first meal could be at noon instead of 10 a.m., and then your dinner could be a bit later, around 8 p.m. Or, as Lindsey Mathews, head trainer and nutritionist for IdealFit, explains, a common intermittent fasting strategy is "the 16/8 method," which means "you abstain from eating for 16 hours followed by an eight-hour eating window," she tells Elite Daily over email. Either way, Healthline says the benefits of intermittent fasting can include lower blood sugar levels, more energy, and honestly, it's just a simpler way to live, since you won't have quite as many meals to plan for or clean up after.
But, aside from the periods you go without eating, Koskinen says another key part of intermittent fasting is its embrace of all foods during the times you do eat. "Unlike dieting, calorie-counting, or macro-calculating, food group exclusion isn't required," she tells Elite Daily. In other words, the theory behind intermittent fasting is all about when you eat, not what you eat.
Of course, when it comes to any change you're making in your diet, it's best to talk to your own doctor and/or nutritionist to get the scoop on what's best for your individual body. But if, for now, intermittent fasting is something you're simply considering or looking to learn more about, here's what the experts really want you to know about it.