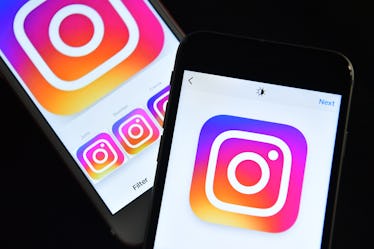 Instagram Is Testing A New App Made For Direct Messages & It Looks Like Fun
Carl Court/Getty Images News/Getty Images
As if Instagram's Story Highlights and Story Archive didn't have us hyped enough already, the company is reportedly already making moves on something new. According to The Verge, Instagram has begun testing a new app strictly for private messages called "Direct," and it'll make sending DMs a lot more fun. So, what is Instagram's Direct app? Let's find out.
If you're already panicking because you had just enough space for the most recent iOS update, you can relax. You don't need to free up storage on your phone just yet: Direct is currently only available to iOS and Android users in Chile, Israel, Italy, Portugal, Turkey, and Uruguay.
Some of you might be thinking, "Okay, well, this is cool — but why would I install a new app to do the same things that I can already do in the Instagram app?" Trust me, you're not alone in that thought... and Instagram knows that.
Although they understand the convenience of having everything in one app, Instagram believes that there is a better way to offer private messaging to its users. An Instagram spokesperson tells Elite Daily,
We want Instagram to be a place for all of your moments, and private sharing with close friends is a big part of that. To make it easier and more fun for people to connect in this way, we are beginning to test Direct — a camera-first app that connects seamlessly back to Instagram.
The company wants to continue improving the private messaging experience, but do so separately from the app itself, which is made for public posting.
It appears that the company is taking a stab at what Facebook did in 2014 when it launched Messenger and eliminated private messaging from its mobile app. When you install Direct, you lose messaging functionality in your Instagram. This of course makes sense, as Facebook owns Instagram. The company also owns WhatsApp.
Instagram's direct messaging service had 375 million monthly users in April, a number that has risen following the introduction of Instagram stories. You might not always think of it this way, but any time you reply to a friend's story with an "LOL," you're using the direct messaging feature. All of that starts to add up, and for Instagram engineers, that means it's time to give users a new, targeted space in which they can connect with each other more intimately.
Reading The Verge's description of the app so far, it sounds similar to Snapchat. As mentioned, the app immediately opens up to the front-facing camera, and features a number of filters, none of which are currently available within Instagram Stories (okay, I'm already intrigued). If you want to send some text without a corresponding image, simply pull down for a messaging screen.
An interesting feature that I've never seen before is the app's transition capabilities. According to Instagram, Direct "connects seamlessly back" to the app. Simply swipe right in either app, and you'll be taken to the other. Pretty cool, right? Just make sure you're in Instagram or Direct and not on Tinder.
Similar to the launch of Facebook Messenger, some backlash is expected if Direct does wind up launching worldwide. However, the company is optimistic that the improved user experience will make up for the temporary inconvenience of downloading and learning a new app.
The testing of this new app comes right on the heels of another huge Instagram launch, Stories Highlights and the Stories Archive. On Tuesday, Dec. 5, Instagram introduced the two features, which work together to allow users to have longer-lasting "stories" on their profiles. With the Stories Archive, you can recycle content from past stories to create a highlight to pin to your profile. The highlight stays on your profile for as long as you would like, meaning that you don't have to kiss that beautiful Boomerang of your eggs Benedict goodbye after 24 hours. As an added bonus, you can have as many highlights as you'd like.
I don't know about you all, but I'm excited to test out Direct and see what other features will be added to our favorite apps in the new year. Perhaps a VR function where we can hang with our friends even when we're at work? A girl can dream.
Check out the entire Gen Why series and other videos on Facebook and the Bustle app across Apple TV, Roku, and Amazon Fire TV.