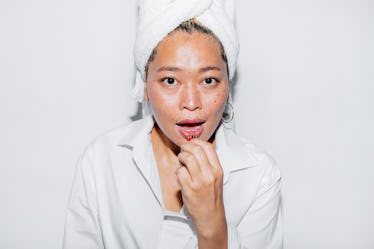 What It Means To Experience Gender Dysphoria, According To An Expert
IMHNBO (in my humble, non-binary opinion), gender stereotypes are totally cringeworthy. If you, like me, have always felt lingering discomfort around gender, it's natural to wonder if you've been experiencing gender dysphoria. And if you've never felt totally comfortable with traditional gender roles or your cousin's big gender reveal party made you want to jump in a lake, unpacking the term can be validating.
The American Psychiatric Association (APA) defines gender dysphoria as "a conflict between a person's physical or assigned gender and the gender with which he/she/they identify." The APA states that this conflict can cause serious distress or even problems functioning in one's daily life. According to Anemone Schlotterbeck (she/her), LMSW and Gender Affirming Services Specialist at Philadelphia's LGBTQIA health and wellness Mazzoni Center, part of the problem in really defining gender dysphoria is that the term really has two meanings. "There are two different concepts circulating," Schlotterbeck tells Elite Daily. "One is a clinical diagnosis, and the other is the term trans people use for ourselves, sometimes overlapping with the clinical definition but sometimes different."
If your gender has made you super uncomfortable, or you're just starting to learn about the gender-binary, Schlotterbeck breaks down the definition of gender dysphoria.