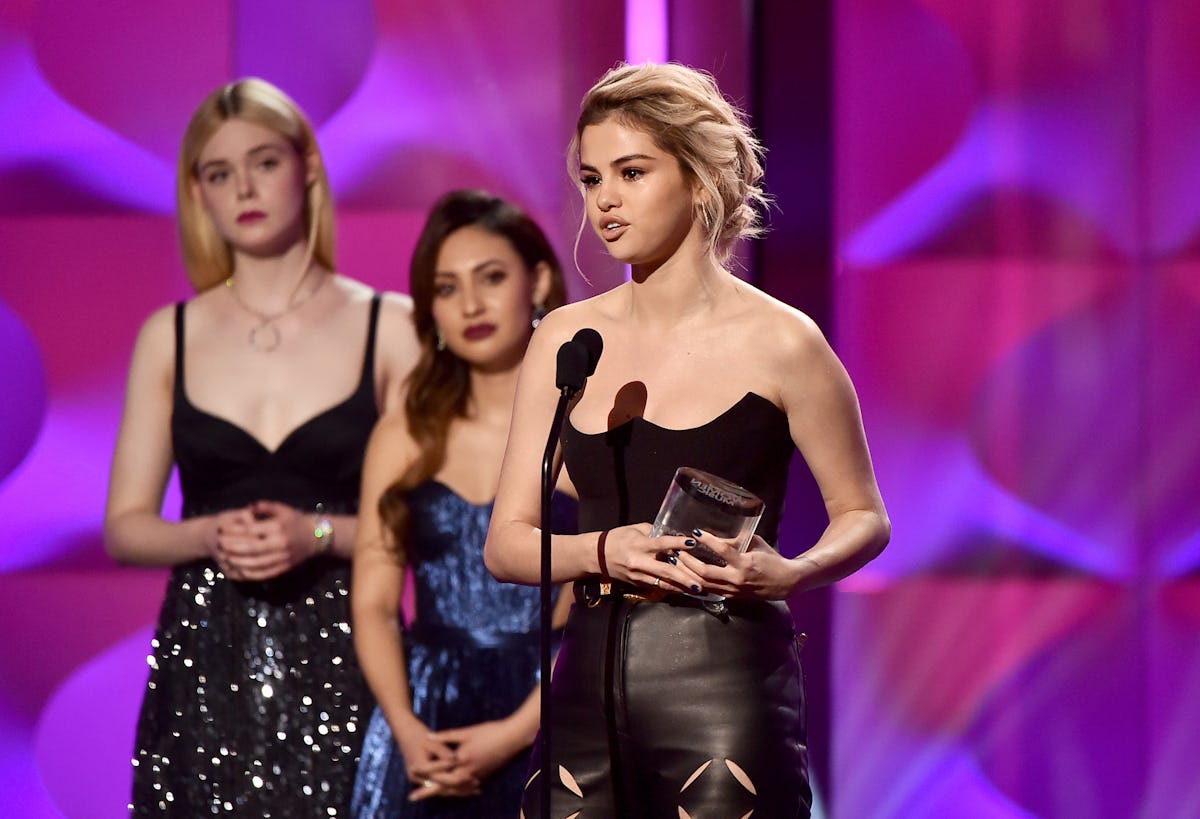 Here's How Selena Gomez Worked Through Her Issues In Rehab With Horse-Assisted Therapy
Frazer Harrison/Getty Images Entertainment/Getty Images
Selena Gomez became the talk of the internet in 2017 when she returned to the spotlight after a kidney transplant as a result of her battle with lupus, a diagnosis the singer received in 2013. Recently awarded Billboard's Woman of The Year, the singer has been remarkably open about her experience with the illness, as well her struggles with depression and anxiety that followed. In an emotionally honest interview with Billboard, Gomez also shared how equine therapy helped her during her stint in rehab to help cope with her mental and emotional health. But what exactly is equine therapy, and how does it work?
Well, it's pretty darn cool, actually. Equine therapy, also known as equestrian or equine assisted-therapy, is an experiential, therapeutic approach that uses interactions with horses to help promote emotional growth and communication skills in patients.
Patients learn how to care for, ride, and interact with the animals, and because horses have the ability to respond immediately to emotional cues and actions, they're able to "give feedback to the rider's action or behavior," according to Equestriantherapy.com, and are "also able to mirror the rider's emotion." Pretty freakin' cool, right?
Plus, according to CRC Health, horses are "typically non-judgmental" creatures, and have no preconceived expectations or motives.
These characteristics are what make horses particularly effective at mirroring attitudes and behaviors of their human partners when it comes to this type of therapy.
Equine therapy has been shown to help with emotional and mental growth in several areas, like empathy, self-regard, problem-solving skills, tolerance, impulse control, accountability, and communication. This therapeutic process first began in the late 1960s, when it was developed by the North American Riding for the Handicapped Association as a way to help people recover from and be treated for physical disabilities and injuries.
People soon realized these benefits could extend to the psychological realm, too, and the equine method has since been used as a form of emotional therapy.
As for Gomez, the therapy really seems to have opened a major pathway to healing and growth in her life. She told Billboard about her experience with equine therapy at a rehabilitation center in Tennessee,
There were three horses to choose from, and naturally I went for the emotionally unavailable one.
So, I felt very angry, had a lot of stress in my body and the horse took off, completely left. And I just kept getting more angry and frustrated. The horses can really sense your energy. After trying multiple times, the therapist looked at me and said, "You know what? I need you to take the nice, sweet, kind, available horse. I want you to accept what you have in front of you."
The "Bad Liar" singer added,
I took a lot of deep breaths, walked around the stable, and by the time I came back, I felt completely settled in a "that's enough" sort of way. I'm the kind of person who goes home and thinks, "Maybe I didn't do enough," or I feel like I wasn't enough, and those are the things you can't focus on. It comes back to the idea of being present. And that was four years ago.
Gomez said "a lot has changed' since she went to rehab, and she feels "more centered, more accepting" since the experience.
And as challenging as the past few years may have been for Gomez, the star seems to be coming into her own stronger and more confident than ever, and it's awesome to see her be able to articulate her experiences with honesty and bravery:
[After the surgery] I had this sense of gratitude for myself. I don't think I've ever just stopped and been like, "I'm actually grateful for who I am."
I know I'm personally going to be taking a page out of Gomez's book and adopting an attitude of gratitude — and maybe I'll go for a trail ride with a couple horses while I'm at it.