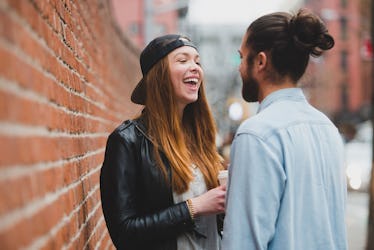 13 People Reveal What Emotional Cheating Means To Them, & It Makes So Much Sense
Before I ever even asked myself, "What is emotional cheating?" I was a victim of it. I once had a partner who had an emotional affair. At the time, my partner was 21 years old, and I was still about six months from my 21st birthday, so they started going to a local bar without me. I trusted them, so I didn't sweat it until they started coming home later and later after the bar had closed. It turned out they had developed a friendship with the bartender, and they were staying and chatting for hours after the bar closed, and developed a close, intimate friendship that they lied about and tried to hide from me for months. (It eventually made its way back to me through mutual friends.) My partner always swore that nothing sexual happened, but I was still totally devastated. I felt betrayed and lonely and lost. I knew that a line had been crossed, I didn't have the language to describe what had happened, but I knew it was some kind of cheating.
My story is all too common, in part because what constitutes emotional cheating can be so unclear, and people cross that line without realizing it exists, only to face the consequences on the other side. So, what is the actual definition of emotional cheating?
"Any time you seek something out in someone else to fill a void in a relationship/marriage, it constitutes as an emotional affair," Amber Turner, the founder of Deluxe Matchmaking, told Elite Daily. And I speak from experience when I say it's every bit as painful (perhaps even more so) than a sexual affair. "Someone has stepped into emotional territory previously reserved for them, to which they used to have free and exclusive access," Wendy Lustbader, M.S.W., explains in a piece in Psychology Today. "Now there are sections of this sphere that belong to someone else, that are off-limits to them and have become private."
That still feels a bit vague, so I turned to Reddit to see what other people consider to be emotional cheating, and honestly, I agree. Here's what they had to say.