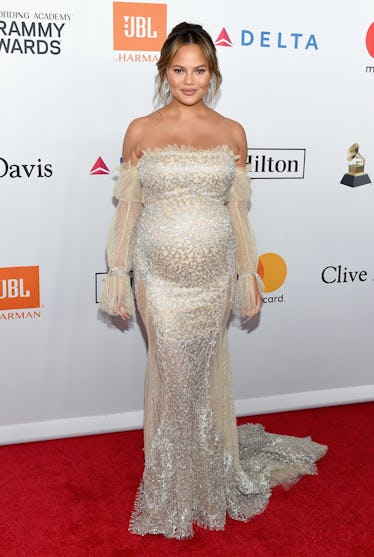 Chrissy Teigen Just Announced Her Baby Boy's Name & It's So Cute, You'll Melt
Nicholas Hunt/Getty Images Entertainment/Getty Images
I'm going to need a minute, y'all. In case you missed it (honestly, impossible), Chrissy Teigen finally gave birth to a baby boy on Thursday, May 17, and hearts all over the world exploded. It seemed like only yesterday that Teigen announced her pregnancy on Instagram, but now he's finally here, and everyone is freaking the eff out, because ANOTHER BABY IN THE TEIGEN-LEGEND HOUSEHOLD! But of course, once we know that a baby is born, we always want to know what mom and dad chose to name him or her. So, what is Chrissy Teigen's son's name? According to Teigen's Instagram, she and husband John Legend named their baby Miles Theodore Stephens!
Do you hear that, world? Are you as in love with the moniker as I am?
I just want to thank Chrissy Teigen for announcing her baby's name on Instagram so soon after giving birth, because honestly, we might have all died from anticipation if we had to wait any longer. Teigen posted the name choice along with the first picture of little Miles on her Instagram page on Sunday morning. Brace yourselves, you guys, because Miles takes after his big sister in that he is the literal picture of perfection.
Our girl Chrissy is no stranger to social media (she's basically the queen of it, TBH), and has always shared big news on all of her accounts. And when she revealed that she was pregnant with her second child, it was no different.
Many people think of Jan. 28, 2018 as the night of the Grammy Awards, but I think of it as the night Teigen posted a photo of herself on the red carpet, in a stunning silver gown, rocking an adorable baby bump. She looked absolutely divine, but it was her caption that really turned heads. It read, "mama and her baby boy," and yep, folks, that was the day we found out the baby's sex.
Fans were totally feeling like the name choice was on point:
Gotta hand it to John and Chrissy for choosing two baby names that are modern and trendy, but will still be relevant decades from now. Bravo, you two!
Teigen has always been very candid about her struggles with pregnancy, and in November of 2017, she opened up to InStyle magazine that she and John Legend were planning on using in vitro fertilization with their second child, just like she did with conceiving daughter Luna. In her interview, she said that they started with about 20 embryos, and narrowed them down to ones that "you know are going to be good for your body." After that process, they were left with only three embryos. "The first little girl didn't work, and then the second is Luna," and, according to the magazine, the third was going to be the one that "they will transfer to her womb in the coming months."
Seriously, this little family is just the cutest — and it might expand even more. She told Us Weekly, that she got "very, very lucky" with having such an incredible man like John Legend as her husband and father to her children. "How would I not want to expand my family with this beautiful person? He's just everything," adding that "hopefully we'll have even more [kids] in the future."
I'm not even going to deny the amount of happiness the idea of a third baby brings to me.
I hope that, if we are #blessed with a third baby, Teigen shares the news in a similar fashion as she did with Miles. On Nov. 21, 2017, she posted a video of Luna crawling around on top of her belly. Teigen asked, "Luna what's in here?" and Luna responded, "baby!"
IT KILLS ME, YOU GUYS.
But the best part is that Teigen captioned the video with a comment that said, "It's Johns!," and how much more could I actually love her?
Funny and gorgeous. Truly the complete package.
We can't wait to watch little Miles grow, and we're *pretty* sure that we'll get to see special moments of his life through Teigen's social media, as she's done with Luna. (Huge thanks to Chrissy for this, BTW.)
So now if you don't mind, please give me some alone time to sit on my couch and anxiously await some baby pictures of Miles. Yes, you can judge me. And no, I truly don't care what you think. This is basically my job, people.
Deep down, I know you're jealous.