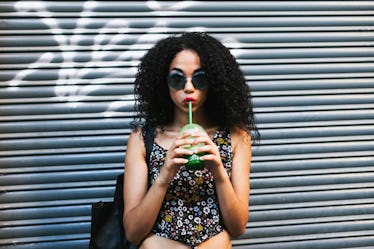 Blue Majik Smoothies Are The Gorgeous Drinks That Need To Be On Your Insta This Summer
Smoothies are kind of all the rage right now. Lately it seems like you can't walk even a block without coming upon some fancy new juice bar, not to mention all the colorful smoothies you can't help but double-tap when you're scrolling through Instagram. Listen, I'm not complaining: I love smoothies and all their many delicious, though-sometimes-strange ingredients — like Blue Majik, for example. What the heck is a Blue Majik smoothie, and why am I seeing them literally everywhere on my Instagram feed?
Seriously though, these blue smoothies do not look like a color that occurs naturally in plant life — though there's something about them that's just so uniquely eye-catching. While the shade does bring to mind a nice summer day, I wouldn't say it's immediately, you know, mouth-watering. But it's just plain beautiful to look at, and honestly, that's enough for me to try anything. If you're not quite as easily convinced, though, perhaps it would sway you to know that that bright blue bowl of vibrant, refreshing goodness might actually have some awesome health benefits in store for you.
Blue Majik comes from the organic health product company E3Live, which describes the blue-green powder as a "proprietary, chemical free extract of Arthrospira platensis," aka spirulina. While the Blue Majik from E3Live doesn't seem to be the only supplement of its kind on the market, it does appear to be the one most commonly used in these colorful smoothies.
Per the E3Live product description of this blue beauty, Blue Majik is said to help soothe post-workout inflammation, support healthy joints and flexibility, and most of all, it's supposed to give you all kinds of energy and feelings of vitality. It's worth noting that there doesn't seem to be much research out there to back up all of these health claims for the Blue Majik supplement itself, but we do know spirulina is packed with vitamin B, protein, iron, and lots of other nutrients, according to Healthline.
That, and there is some research that suggests the special element in Blue Majik responsible for its hue is as magical as its name indicates.
As Shape reports, the color in Blue Majik comes from something called C-phycocyanin, which is a protein that's said to have antioxidant benefits and can also help with inflammation, as shown in a 2016 study published in the journal Evidence-Based Complementary and Alternative Medicine.
Of course, you're probably wondering about one of the most important details of all: Is Blue Majik as delicious as it is beautiful, or is it one of those things that makes your smoothie taste like a forest floor and requires a tight pinch of the nose while you swallow?
Truth be told, Blue Majik tastes a little earthy. But what makes it a good and beautiful addition to a smoothie or bowl is that it blends well with other ingredients, and the whole "tastes a little like bark" thing can easily be dialed down by adding delicious fruits, honey, and the like into the mix. And again, you're getting a heaping dose of health benefits on top of that gorgeous, Insta-worthy color.
So if you're looking try this mystical bev yourself, you can easily whip it up at home.
If you can find one in your area, places like Juice Press have similar drinks you can buy, but if you're interested in experimenting with the blue-green hands-on, there are tons of recipes out there for Blue Majik smoothie treats and bowls. This "Blue Mermaid Smoothie Bowl" recipe from the blog Greens of the Stoneage, for example, is pretty simple, calling for two large frozen bananas, some frozen white grapes, any nut milk of your choosing, coconut yogurt, a little squeeze of lemon, and of course, Blue Majik — plus any toppings you want to sprinkle over the blue mixture! My mouth is watering just thinking about this, guys.
Another delicious, yet simple recipe comes from from the blog Molly's Best: All you'll need is a cup of unsweetened vanilla almond milk, half of a frozen banana, a cup of frozen blueberries, some Chia seeds, a little Blue Majik, and voila! You've got yourself a breakfast that looks and feels like a Caribbean vacation, right in your own kitchen.