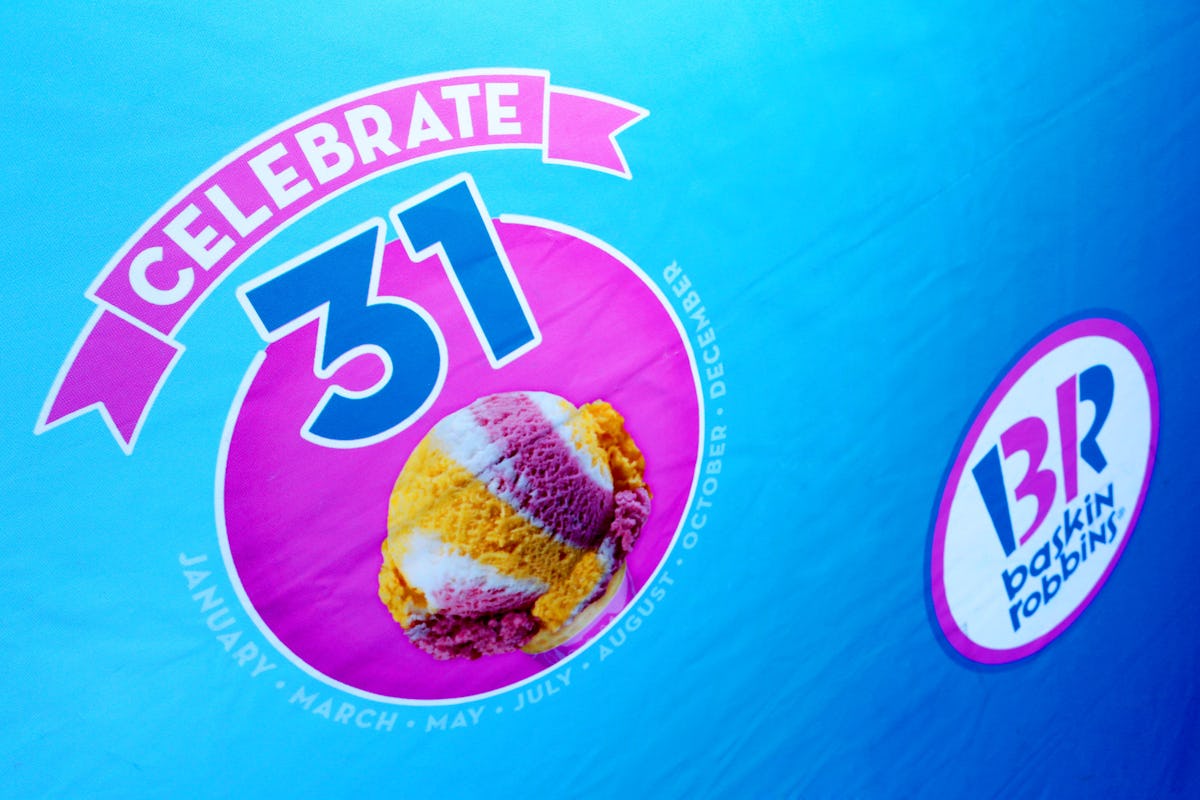 This Baskin Robbins NYE Ice Cream Deal Could Make 2018 Extra Sweet
Rachel Murray/Getty Images Entertainment/Getty Images
No one wants to miss the opportunity to start 2018 off on the right foot. After experiencing quite a whirlwind this year, new beginnings are not only in order, but so are scoops of ice cream. If you find yourself asking, "What Is Baskin Robbins' Celebrate 31 deal?" it's a lovely way to indulge before embarking on all that 2018 has to offer.
In honor of its 31 flavors — one for each day of the month — Baskin Robbins decided to offer all kid-sized and regular scoops for $1.50 during this festive promotion, according to Teen Vogue. Who can possibly pass up an opportunity as sweet as this? Your latest NYE tradition will no doubt require a sip of bubbly and a mouthful of your favorite flavor (York Peppermint Patty, anyone?).
Although the offer stands on scoop sizes, the promotion might vary according to each location's flavor, Teen Vogue and Spoon U report. There's always something to choose from, so don't stress if the World Class Chocolate isn't available at your local store. Who knows? Your runner-up flavor might be destined to be your new favorite in 2018.
This is certainly not the first time the store decided to pay homage to its exciting flavors. In fact, the Celebrate 31 phenomenon is something you can experience in January, March, May, July, August, October, and December — all the months with 31 days. If you got stuck planning your NYE get-together, you can always make a pitstop at your nearest Baskin Robbins a few weeks later (though, let's face it: There's always time for an ice cream run).
So now that you've decided that a little indulgence is necessary before 2018 rolls in, there are plenty of other things you need to know in order to make the most of your NYE. First thing's first, obviously a social media presence is necessary; how else are your followers going to see your epic day of ice cream, champagne, and your new lbd? This is why your photography skills are of the utmost importance, so take a look at how to photograph fireworks. With these quick tips — turning off the flash and HDR, among others — will convince your followers that you're secretly a professional photographer, so get ready for the likes to come pouring in.
While you're taking a scoop of that Mint Chip, you might as well figure out the song situation for the evening. People are perfectly timing their favorite songs for midnight so they can welcome 2018 in the best way possible (though, in my opinion, ice cream makes any celebration all the more pleasurable). Into Fall Out Boy? How about One Directions and co.? There are plenty of suggestions about when to start playing your favorite jam so that the best part of the song chimes right in as the clock strikes 12.
And of course, since ice cream scoops are almost as necessary as to-do lists when keeping organized, why not do your travel homework while feasting on something tasty? There are plenty of places to explore in 2018, so take that mouthful of Cookies n' Cream and start figuring out where exactly you want to visit in the new year.
You're totally in luck: CheapAir.com did quite a bit of research and discovered the top 10 cheapest places to travel in 2018, so you can get the most bang for your buck. Your sundae will taste hundreds of times better when you start this adventurous travel log.
Here's to 2018 and all that it has to offer (lots of ice cream).
Check out the entire Gen Why series and other videos on Facebook and the Bustle app across Apple TV, Roku, and Amazon Fire TV.