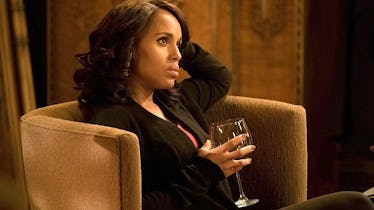 Here's Everything We Know About 'Scandal' Season 7 & What's In Store For Olivia Pope
ABC
The twisty, shocking political drama that had us all on the edge of our seats is about to come to an end, but before it hangs up its white hat for good, Scandal has one of its craziest seasons left with which to say goodbye. And apparently, it won't only include wild twists, but also some pretty shocking painful parallels to our current reality. Before you jump back into the delicious drama of Scandal's final season, let's go over all the hints we've gotten about the new season, and try to piece together what happens to Olivia Pope in Scandal Season 7.
Much of the cast has given us some great scoop on the final season in interviews, but Olivia Pope herself (Kerry Washington) actually stayed relatively tight-lipped on what's in store for Scandal's big farewell when she appeared on Good Morning America this Thursday, but she did reveal one interesting tidbit. Apparently, Shonda Rhimes had a completely different ending for the show in mind, which she scrapped and replaced after Donald Trump became president earlier this year. Showrunner Shonda Rhimes first talked about how Trump's election changed her plans for the new season in an interview with the Chicago Tribune back in April, saying it's been difficult creating situations for the famously soapy show that were more dramatic than what Trump was doing in real life.
In a world in which all of the things that we would write on Scandal are happening in real life, it's very hard to write Scandal the way we used to, when it was like, 'Let's make Washington the most outrageous, horrifying place it could ever be.' I used to know how it ended, and then Donald Trump was elected. We had a destination, and I don't know if that's our destination anymore.
But aside from all the Trumpian parallels coming our way, we're also in store for a wild ride with Olivia Pope for the final season. Joe Morton, who plays Olivia's father Rowan Pope, hinted in an interview with CNN that in the new season, Olivia holds all the power in the White House. At the end of Season 6, we saw Mellie Grant get sworn in as the President of the United States, but Olivia was the one who took the real seat of power as both Mellie's Chief of Staff as well as the leader of the covert government agency B613. That sounds great for Olivia, but Morton gave an ominous warning: "She holds all of the power — and as we all know, absolute power corrupts absolutely."
Bellamy Young, who plays now-president Mellie Grant, echoed Morton's sentiments that something explosive is about to go down involving Olivia Pope. In an interview with TVLine, Young revealed that Mellie has a ton of trust in Olivia (hence why she made her the Chief of Staff), but that trust come back to bite Mellie as she begins her presidency. Of course, Mellie doesn't know that Olivia is also the new Command at B613, having actually tricked the newly elected president into signing an executive order to bring the shady, underground bureau back from the dead. But Young says it's only a matter of time before Mellie does find out the truth, and that is going to lead to a massive blow-up between the two most powerful women in the country.
Unfortunately, that's just about all we know about what's going to happen in the new season right now — everyone's being very good about keeping the storylines hush-hush. To get all the details on how Scandal will end its seven-season run, tune into the Season 7 premiere on Thursday, Oct. 5 at 9:00 p.m. on ABC.