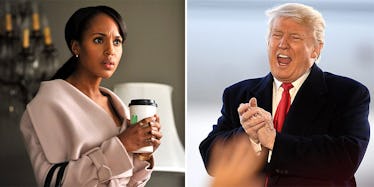 The 'Scandal' Premiere Got Pushed Back For A Trump Special And Fans Are Pissed
ABC/REX/Shutterstock
Rule #1: Don't fuck with Shondaland.
As much as Donald Trump is set to become the technical president of America in a few weeks, I think we all know who actually holds the most powerful seat in the US.
Her name is Shonda Rhimes and the second you mess with the holy kingdom of Shondaland is the second you officially go too far.
ABC and Donald Trump have officially gone too far.
ABC announced it's pushing back the season premiere of "Scandal" and mid-season returns of "Grey's Anatomy" and "How To Get Away With Murder" a week in order to air a special on Donald Trump the night before his January 20 inauguration.
The "20/20" special is called "America's First Family: The Trumps Go to Washington" and will air on Thursday, January 19, at 10 pm, the date that was penciled in to be the big return of ABC's #TGIT.
This means viewers are forced to wait to until January GODDAMN 26 in order to hear if Cyrus and Francisco's campaign attempt is enough to force Olivia out of DC and *whatever is happening on those other two shows I don't watch but nod and comment on as if I watch them whenever I'm at parties.*
The internet is rightfully furious about this gross abuse of our rights.
Those looking to get their Shonda fix on January 19 can still watch older episodes of "Grey's" and "Scandal" that will air before the special, which isn't as much a silver medal as it's a giant fart in our faces straight from the butthole of ABC's top brass. (I am sooo sorry for saying that, ABC top brass. Please don't sue me/refuse to hire me for whatever Shondashow you're working on next.)
#TGIT will return starting at 8 pm on January 26.
Some people are taking the news harder than others.
I'm not sure if this is a thing you can fix by calling your state senators and stuff but I would do it anyways. Any little bit helps.
Citations: Your Wait for the Return of Scandal and the Rest of TGIT Just Got a Little Bit Longer (E!)