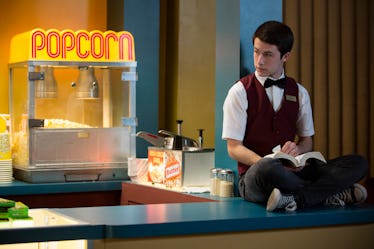 Dylan Minnette Just Revealed Details About Where Clay Will End Up In Season 3
Netflix
Season 2 of the Netflix hit 13 Reasons Why ended with an insane whirlwind of activity. Exes Jessica and Justin hooked up, Chloe revealed her pregnancy, and Clay somehow managed to talk Tyler down from starting a school shooting. All of these interweaving, original storylines contributed to Netflix's decision to renew the series for a third season, which is literally an open book as far as what could happen. We know close to nothing about the new season, but most importantly, what happens to Clay in 13 Reasons Why Season 3? New episodes won't hit Netflix until 2019, but Dylan Minnette shared some of his hopes for the character in the future, and his theories are quite intricate.
The Season 2 finale ended with Clay holding Tyler's weapon as sirens wailed in the distance. Tony whisked Tyler away in his car to an unknown location, leaving the fate of both Tyler and Clay uncertain. Clay approaching Tyler unarmed was a bit of a blunder on the character's part, and Minnette already shared that he didn't exactly agree with Clay's intense approach to the situation. However, the 21-year-old opened up again about how he thinks the foiled shooting will be handled next season, telling Entertainment Tonight:
I'd be surprised if the story isn't, like, immediately picked up where it left off. I feel like the 13 Reasons Why fashion is there's a time jump and we just put together the pieces of what happened in between. I don't know, I'm not confirming, but that's where I feel like it's going. I don't know what Clay does with that gun, I don't know how he gets out of it. When we were filming it I did not realize that the sirens would sound that close!
13 Reasons Why fans have theorized that Season 3 will kick off with anything from a fake-out about the shooting to a major time jump, but Minnette definitely seems convinced that the show won't pull any tricks when it comes to continuing the shooting plotline. With the current national conversation revolving around gun safety and school shootings, the season continuing this exact moment would certainly be a fierce talking point.
Minnette also sides with many fans' beliefs that Clay's mental health was a serious concern throughout the second season. Amidst helping everyone else with their drama, Clay resolving his own issues was waylaid, but we may see him finally seek help in Season 3. Minnette told ET:
I think even seeing him in therapy at some point or something… having someone to talk to and having Clay be able to face these problems that he has... I think that [his mental health is] not fully recognized by himself or any of the characters surrounding him yet. And that's exactly something I would love to see explored.
Minnette even pointed out that Season 1 briefly references Clay being off his medication, which explains his gradual mental downfall throughout Season 2. The potential focus on improving himself would likely prevent Clay from finding a new love interest in the new season or even improving his newfound friendship with Justin. As Season 2 concluded with the characters officially memorializing Hannah, Season 3 could have an element of her truly being "gone" that puts Clay's mind through the wringer again. As Minnette explained:
I feel like with season two, Clay was really carrying the weight of Hannah still, obviously, more than before, more than ever before, and now that that's gone, I'm excited to see kind of Clay being a little wiser, a little more grown up, given everything that he's gone through. Just seeing how he deals with this moving forward in his life and not having, not carrying the guilt and weight of Hannah anymore, and just seeing what new challenges await for him even that aren't involving Hannah... I think if anyone expects Clay to have an easy path in any season, we know we're wrong.
Season 2 of 13 Reasons Why excelled in providing backstories of key characters, but from all of that storytelling came a distance between viewers and Clay. However, by the way it sounds, it looks like Minnette will have plenty of juicy material to work with as Clay next season.
Season 3 of 13 Reasons Why will premiere on Netflix in 2019.
If you or someone you know are experiencing suicidal thoughts, call 911, or call the National Suicide Prevention Hotline at 1-800-273-8255.