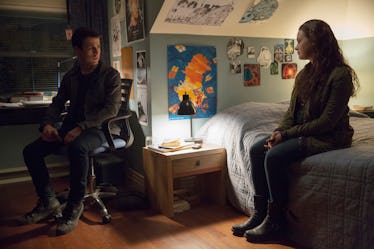 4 '13 Reasons Why' Season 3 Theories That Will Shake You To Your Core
Netflix
Presumably like many other fans, I finished Season 2 of 13 Reasons Why in a fit of confusion, anxiety, and tears, feeling totally blown away by the ending's massive plot twist. As any show aware of binge-watching's hypnotic power does, the 13 Reasons Why ending left us with plenty of questions for future seasons. Netflix has yet to confirm the show returning for another season, but we've compiled four intense 13 Reasons Why Season 3 theories that already have me crying about all of the story's possibilities.
Season 2 veered in a different direction than Season 1, assigning a new character as a narrator each episode and revisiting Hannah's past from previously unknown perspectives. In my opinion, the result of these new narrative shifts was even more uncertainty about who Hannah was as a person, but after all, we all contain multitudes. 13 Reasons Why fans on Twitter and Reddit have dissected these storylines and why we now think of Hannah the way we do, but they've also concocted some pretty reasonable predictions for Season 3.
Season 2 left us with big questions, specifically about where Tony takes Tyler and whether Clay will be wrongly accused of attempting a school shooting. As always, fans have also come through with ideas about little details that were lost in the finale episode's shuffle. and I can't wait to weigh in on any more theories that appear before Season 3 (hopefully) premieres.