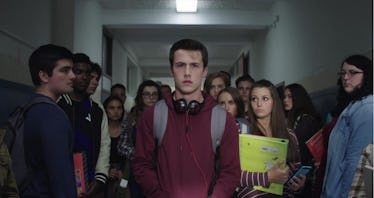 '13 Reasons Why' Season 3 May Have Just Been Confirmed & OMG, I Can't Keep Up
Netflix
Season 2 of 13 Reasons Why is due out in a little more than two weeks, and while I've kept busy by analyzing that teaser trailer, I'm already curious about what direction the creative team may take the show in for a possible Season 3. The show hasn't officially been renewed for another season yet, but there's apparently a huge hint IRL that Season 3 could be in the works soon. Netflix's renewal of shows can be quite unpredictable, and we often lose some amazing streaming shows too soon, but is 13 Reasons Why Season 3 happening?
According to California newspaper The Sonoma West Times, Analy High School, the filming location for 13 Reasons Why's own high school, has been secured for a third round of filming. The paper reports that, in mid April, the West Sonoma County Union High School District board agreed on another licensing agreement with production company Paramount Pictures that detailed the terms of the show's filming arrangement. The agreement states that Paramount must pay the school district about $66,000 to film for 30 days on the school campus in Sebastopol, California. As opposed to past years' shooting schedules, the new season would reportedly film from mid-June to mid-December.
Of course, we can't take this as a definite sign of 13 Reasons Why having a Season 3. Paramount may be counting its chickens before they hatch, but based on the response to Season 1 and the hype around the incoming Season 2, the likelihood of Season 3 seems strong. Plus, if a renewal decision is quickly approaching, the production team will want those filming details squared away ASAP.
The show returning to Analy High again also offers up some theories about what a new season could focus on. Hannah's death could be revisited from yet another character's perspective. If Season 2 doesn't exhaust all of the characters' viewpoints of Hannah's suicide, there must be someone left to take over the narrative in Season 3, right?
There's also the possibility that a new group of characters could become the main focus in a third season. Although 90210 or Saved by the Bell might teach you differently, high school doesn't last differently, and some of the original characters will have to move on eventually. It's clear the show doesn't have to stay true to the source material of Jay Asher's 2007 book anymore, so the possibilities could be endless.
This major clue about a renewal differentiates from what showrunner Brian Yorkey originally wanted. In a January 2018 interview with The Hollywood Reporter, Paramount TV president Amy Powell revealed:
13 Reasons Why showrunner Brian Yorkey was reticent to come back for a second season until he could crack it. He didn't want to commit to it blindly until he knew how to find an entry point into these characters and their stories... It's up to Brian. We're not going to pressure him to create more seasons if he doesn't feel they are there, but he is already starting to think about what a season three could be.
Season 2 of 13 Reasons Why is expected to begin a few months after the first season ended, and it also plans to bring past and present timelines together. The Season 2 teaser suggested that polaroids would play a part in new episodes, and the season description claims, "A series of ominous polaroids lead Clay and his classmates to uncover a sickening secret and a conspiracy to cover it up." Original narrator Hannah Baker, played by Katherine Langford, is also expected to appear in a different way, adding fuel to rumors that another character may take over as the show's narrator.
We may have to wait awhile for Season 2 to debut, but it looks like we could have a Season 3 renewal announcement coming up soon. Until that's official, Season 2 of 13 Reasons Why debuts on Netflix on Friday, May 18.