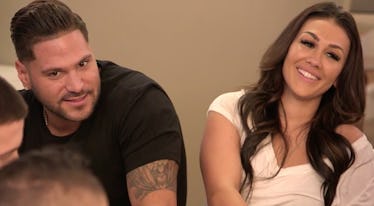 'Jersey Shore Family Vacation' Season 2 Broke Down Ronnie's Relationship Drama Right Away
MTV
Jersey Shore Family Vacation finally returned with its second season (or "Part," as its being called), and the show wasted no time getting into the big question that every fan who hasn't been living under a rock these past few months was dying to know: What happened with Ronnie and Jen on social media? Ronnie Magro-Ortiz and his on-off girlfriend Jen Harley's rollercoaster relationship drama has, without a doubt, been the buzziest thing going on with the Jersey Shore Family Vacation cast since the end of Season 1 and throughout the months leading up to this new season. Their antics have been incredibly confusing and hard to follow for many fans. Thankfully, the Season 2 premiere of Family Vacation addresses the couple's massive social media blow-up right away.
Throughout the first season of Jersey Shore Family Vacation, Ronnie and Jen's drama also took the center stage, as Ronnie questioned his relationship with Jen while she was in her final months of pregnancy with his child. But the two saved their biggest fight for off the cameras. Partway through Season 1 airing, Ronnie and Jen shocked fans by launching into a particularly vicious fight publicly on their Instagram accounts. The slew of insults and accusations between the couple was even more jarring since it happened only days after Jen had given birth to her and Ronnie's newborn child, Ariana Sky.
The blow-up went down at the end of April, when Ronnie posted a note to his Instagram story that seemed directed at Jen: "can't turn a natural born how into a house wife." After that, the couple went back and forth for hours in their Instagram stories, with accusations flying from both side: Ronnie made claims about Jen cheating on him and keeping a sex tape with an ex, and Jen accused Ronnie of having a cocaine addiction. Elite Daily reached out to Ronnie's team for comment on the accusations in the posts but did not hear back by the time of publication. You can scroll through a number of the screenshots for yourself below:
Since that surprising fight was public, obviously all of Ronnie's Jersey Shore castmates saw it, and the first thing that they all wanted to do when reuniting in Las Vegas for part two of their family vacation was to ask Ronnie what was going on. But weirdly, when Pauly D, Vinny, and Mike brought up the Instagram battle royale to Ronnie, he got totally quiet. The men noted that Ronnie seemed to be brushing the fight under the rug and pretending that it never happened, but it was clear that his relationship with Jen had become a source of intense stress for him.
Ronnie and Jen had reportedly broken up shortly after their social media fight, but if they did, that was never really addressed in the Jersey Shore Family Vacation premiere. Jen even visited the cast for a little bit to introduce Ariana to everyone, and she and Ronnie actually seemed to get along well when we saw them with one another. The breakdowns started happening when the two were apart: text messages from Jen were apparently so cruel to Ronnie that he got into a drunken fight in a bar bathroom and then broke down into tears at the house.
Clearly, Family Vacation has only scratched the surface of the wild Ronnie/Jen drama, and we will most definitely be seeing more in the coming weeks.